Brendan Ingle 'was a legend and treated champions and six-year-olds the same'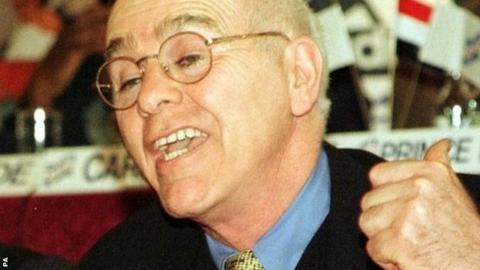 Speak to some of the thousands of people whose lives have been touched by Brendan Ingle and they will tell you the charismatic Irish boxing trainer always left an impression.
As soon as you walk up the steps into his famous gym in the Wincobank area of Sheffield, you are immediately struck by the yellow lines and red circles painted onto the floor, the sparring ring at the far end and the intimacy of the place.
This is where Ingle manufactured four world champions – Naseem Hamed, Johnny Nelson, Kell Brook and Junior Witter, the last of whom said he was "heartbroken" by the news Ingle had died at the age of 77.
But it is also where six-year-old kids were taught lessons for life, where teenagers were knocked into shape by picking up litter on the streets outside, and where even sports ministers came for advice.
The St Thomas' Boys and Girls Club was and is a place they felt at home.
"He's a legend, an institution in Sheffield," says former sports minister Richard Caborn. "He was such a brilliant communicator with young people. Young people respected him and he respected young people.
"There are many stories about the Wincobank gym, where people used to go with sawn-off shotguns and all sorts. People who have been in prison and he's brought them back on the straight and narrow. He's had a fantastic and full life and one that has made a massive contribution to sport and beyond."
'No-one was bigger than the gym'
For many who entered Ingle's gym, he became more than a trainer. Nelson, a former world cruiserweight champion, says he was a "father figure".
Former British and European light-middleweight champion Ryan Rhodes, who walked into Ingle's gym aged six and spent 22 years training there, says Ingle taught him key life skills. And he says everyone was treated the same, even Hamed, who rowed with Ingle before they split in 1998.
"He played a massive part in the my life. He taught me the rights, the wrongs, the pleases and thank yous," Rhodes told BBC Sport.
"And whether it was your first day in the gym or you were British, European or world champion, you were treated the same.
"No-one was bigger than the gym. No-one was above the gym. It was Brendan's way or the highway. That was the good thing about it – everybody trained together and everybody helped each other along.
"Many times I stepped over the mark but I remember about 20-25 years ago Naz and Brendan were having a dispute, and Naz turned to Brendan, who was 50-odd years old, and said: 'If we were both in our prime, I would batter you.'
"Brendan replied: 'Well let's sort it out now.' They both put their gear and gum shields on and jumped in the ring. I'm not kidding, they must have sparred for at least 30-40 minutes with no breaks or water, and it was only when Alma – Brendan's wife – came into the gym they stopped.
"She told them to stop being foolish. After that session, Brendan went home and had a scolding hot bath for about two or three hours and never told anybody for months how much he was hurting. But for pride and putting Naz in his place, that's what he was prepared to do."
'I owe it all to Brendan'
Witter, who was a WBC world light-welterweight champion, struggled to describe what Ingle's death meant to him.
"It's heartbreaking," he told BBC Sport. "I thought to myself, 'I'm prepared for this, I know it's coming, I'm going to be prepared.' And as I woke up and the realisation has hit me, I've just felt lower and lower."
Nelson said Ingle's funeral will take place on 14 June at Sheffield Cathedral – and there are sure to be many who will want to celebrate the life of a man who moved to south Yorkshire from Ireland aged 18.
Glyn Rhodes was another taken under Ingle's wing. A Sheffield-based boxer he now trains others at his own gym and – like Ingle – was appointed an MBE.
"I walked into Brendan Ingle's gym in 1976 after leaving school and I've never looked back," he told BBC Radio Sheffield. "I owe it all to him. If I never met Brendan, I don't know what I'd be doing.
"For all the champions that he produced, and they are a great honour for him, there are thousands of other kids who walked into that gym and became better people. He turned so many lives around and there are people in Sheffield like me, who continue to do things which he taught us."
Caborn, who was sports minister between 2001 and 2007, also said Ingle was "a great adviser".
The former Labour MP added: "When I was sports minister I used to talk to Brendan a lot, not just about boxing but sport generally and the power that sport had to rescue people who were really at the bottom of the economic ladder.
"There was no-one who knew more about that than Brendan Ingle. He's affected so many people's lives."
And Ryan Rhodes says he was always willing to help.
"I don't know if there are words to describe him, he's just an unbelievable human being," he said. "He seemed to know when you had a problem, or you were down, and he always said the right thing.
"He was never stuck for words or couldn't help you in some way if you needed it. He was there for everything.
"His biggest achievement apart from teaching world champions was just helping people. Brendan's whole life was an achievement and he will be really and truly missed."