Breast screening: What went wrong?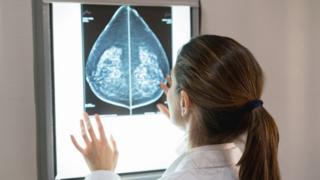 Health Secretary Jeremy Hunt has announced an independent review into why 450,000 women in England failed to receive invitations for a final routine breast cancer screening between the ages of 68 and 71. So what went wrong with the NHS's screening programme?
How does breast cancer screening work in England?
Breast screening aims to find cancer early by using an X-ray called a mammogram that can spot tumours when they're too small to see or feel.
Around one-in-eight women in the UK are diagnosed with breast cancer during their lifetime, and if it's detected early treatment is more likely to be successful.
As the likelihood of getting breast cancer increases with age, women in the UK from the age of 50 who are registered with a GP are automatically invited for a screening with a letter every three years up until their 71st birthday.
Women can't ask for an appointment themselves until they turn 70, when screening requests can be made every three years.
The AgeX trial has been looking at offering screening to women as young as 47 and up to the age of 73 to see what risks and benefits there are to expanding the service for these women.
In older women screening can pick up cancers that do not need to be treated.
The NHS national breast screening programme invites more than 2.5 million women every year for a test, with about two million women taking up the offer.
What went wrong?
Mr Hunt told the Commons the problem was caused by a "computer algorithm failure", which led to some women not receiving their final breast screening when they were between the ages of 68 and 71. The problems happened between 2009 and the start of 2018.
It is not currently known if anyone died as a result of the problem, but Mr Hunt said it was estimated that between 135 and 270 women may have had their life shortened.
He said the problem was spotted in January by Public Health England after an upgrade to the breast screening invitation IT system.
It was escalated to ministers in March by PHE following an urgent clinical review, and the government was told the error should not be made public to ensure existing screening services were not overwhelmed.
PHE found there were problems with the IT system for screening invitations, both for women on the AgeX trial and those awaiting routine screening appointments.
Some local services had also not invited everyone for a final screen in the three years before their 71st birthday, PHE said.
Mr Hunt said further analysis found there had been issues with how people's ages were programmed into the IT system.
Problems with that system were fixed in April, the health secretary said.
Scotland has a different system, and Wales and Northern Ireland have similar ones but do not seem to be affected, Mr Hunt said.
What happens to those who didn't get invites?
Of those who were affected, 309,000 are estimated to be alive.
Mr Hunt said the NHS intended to contact these women if they were still living in the UK and registered with a GP by the end of May, with the first 65,000 letters going out this week.
Anyone who does not receive a letter this month is not likely to have been affected, he said.
Those under the age of 72 will receive an appointment letter informing them of the time and date.
Those over 72 will be offered access to a helpline to decide if it will be beneficial for them, as scans in older women can pick up cancers that do not require treatment.
Call the breast screening helpline number 0800 169 2692
What about next of kin?
Mr Hunt said "best endeavours" would be made to contact the next of kin of women who had missed a scan and subsequently died of breast cancer.
A process will be set up to establish if the missed scan was a likely cause of death and whether compensation should be paid, Mr Hunt said.
What will the review look at?
The independent review into the "serious failure" will look at how many people were affected, why that failure happened and how it can be prevented from happening again.
But beyond this, Mr Hunt said it will also examine why systems did not detect the problem sooner, whether there were warnings that should have been noticed earlier, and if ministers should have been informed quicker.
He also said it would look at what patient safety lessons could be learned.
The review will be chaired by Lynda Thomas, chief executive of Macmillan Cancer Support, and Professor Martin Gore, from the Royal Marsden Hospital – it is expected to report back in six months.