Breast screening failure 'shortened' up to 270 lives
Jeremy Hunt made the announcement as he said the Government will order an independent review into NHS breast cancer screening after 450,000 women in England failed to be invited for the screening.
Some of the women have since developed cancer.
Making a statement to the Commons, Mr Hunt said there could be 135 and 270 women who "had their lives shortened as a result", adding it was "unlikely to be more than this range and may be considerably less".
"Tragically there are likely to be some people in this group who would have been alive today if the failure had not happened," he said.
The next of kin of those who missed a scan and subsequently died of breast cancer will be contacted. Advice, including on whether compensation is available, and an apology will be offered.
The review is expected to report within six months.
The error was caused by a computer algorithm failure that happened in 2009 but was only discovered in January this year.
Mr Hunt said the existence of a potential issue was brought to the Department for Health and Social Care by Public Health England in January, but their advice at that stage was the risk to life was limited.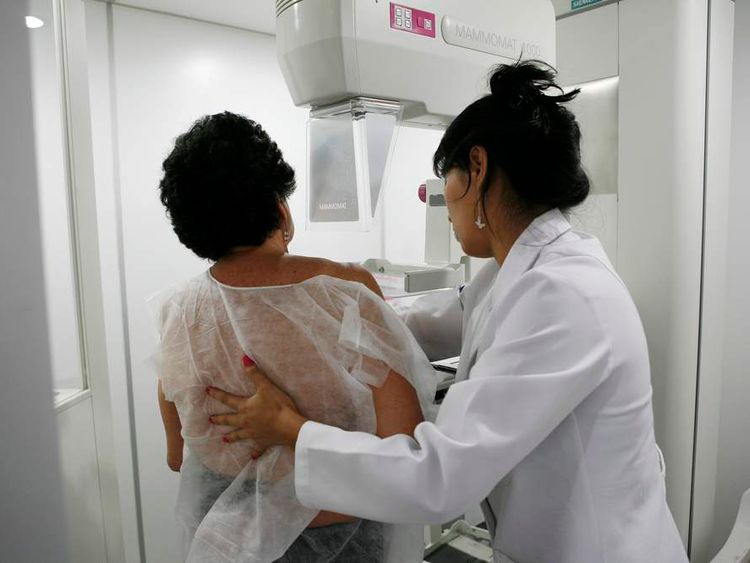 He added PHE escalated the matter to ministers in March, but it was decided the matter should not be public until remedies were in place.
A fix was put in place on 1 April, with Mr Hunt saying no women were at risk from the error going forward.
Mr Hunt apologised "wholeheartedly and unreservedly for the suffering caused".
Women in England between the ages of 50 and 70 are currently automatically invited for breast cancer screening every three years.
They should receive their final invitation between the age of 68 and 71. The failure affected this group.
As a result, around 450,000 women in England missed out on the appointment; of these, 150,000 have died since.
The estimated 309,000 women who are still alive and living in the UK will be contacted, with 65,000 letters being sent out this week.
:: Why are more women not going to breast cancer screenings?
All those under 75 will automatically be sent an invitation to a catch-up screening. For women aged 72 and over, a helpline to decide if a screening is appropriate will be available.
More resources will be made available to ensure the additional screenings are carried out without delay to any patients.
Samia al Qadhi, Chief Executive of Breast Cancer Care, said: "Hundreds of thousands of women across England have been failed by this appalling error and some have had their lives shortened as a result.
"It is shocking that almost a decade has passed before this mistake was discovered. Women affected and their loved ones will be left reeling, both scared and confused. The number one priority now must be to ensure that they get all the support and information they need."
If you believe you or a member of your family may have been affected by breast cancer as a result of not receiving a final screening invitation before turning 70 and would like to share your story, please contact Sky News on:
Email: news@sky.com
WhatsApp: +447583 000853
Or via 'Your Report' on Sky News apps