Bouncy Castle trial: Two guilty over girl's death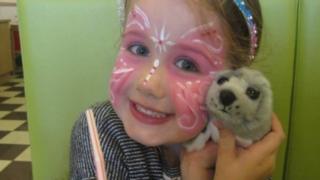 Two fairground workers have been found guilty of manslaughter by gross negligence after a bouncy castle blew away with a young girl still inside.
Summer Grant, seven, died in hospital after she was rescued from the inflatable – which bounced for 300m – in Harlow, Essex, on 26 March 2016.
William Thurston, 29, and his wife Shelby, 26, failed to ensure the bouncy castle was "adequately anchored" to the ground, the court heard.
They will be sentenced in June.
The three-week trial heard Summer only had "a few minutes" left of her turn on the bouncy castle, but Mrs Thurston said she decided to "let them finish their go" before taking the inflatable down.
Prosecutor Tracy Ayling QC said: "While Summer was in the bouncy castle, it blew away from its moorings and bounced 300 metres down a hill. Having hit a tree, it came to rest."
She said the Thurstons, of Whitecross Road, Wilburton, Cambridgeshire, did not monitor weather conditions to ensure it was safe to use on the day.
Mr Thurston said he was aware that Storm Katie was due to arrive two days later, but believed it was "not hugely significant".
Chelmsford Crown Court had heard the bouncy castle – called Circus Superdome – had lifted "suddenly" while Summer was inside.
Mr Thurston said he felt "a sense of disbelief" and "froze for a second" before giving chase.
He told the court how he unzipped an emergency exit on the inflatable, carried Summer out and placed her in the recovery position, describing it as "the worst thing I'd ever seen".
Summer suffered "multiple traumatic injuries to the head, neck and chest" and died later in hospital.
Det Ch Insp Daniel Stoten, from the Kent and Essex serious crime directorate, said the Thurstons had acted "disgracefully" putting up a bouncy castle in 36mph winds.
"The Thurstons put profit before safety," he said.
"They had a huge weight on their shoulders and that was for the safety of children, other people's loved ones. They ignored the rules and regulations.
"They didn't conduct the checks they should have conducted, and sadly Summer's lost her life.
"Gross negligence is the highest level of negligence, extremely high, and they were grossly negligent."
David Kerr-Sheppard, the Essex Air ambulance pilot who attended the scene, told the trial conditions were squally with "sudden, sometimes violent bursts of wind that could easily change direction".
He said the weather was not suitable to fly Summer to a London hospital and she was instead taken by road to Princess Alexandra Hospital in Harlow.
Jenny Hopkins, of the East of England Crown Prosecution Service, said after the verdicts: "This should have been a happy, family day out at a funfair.
"It resulted in Summer's death. I hope that these convictions today will be of a small comfort to Summer's family."
The couple were also found guilty of a health and safety offence. They were convicted by majority verdicts of ten to two after 11 hours of deliberations by the jury.
Judge Mr Justice Garnham, who delayed sentencing for four weeks, said he would be "seriously considering imprisonment".