Bosses' group suspends chair after racism row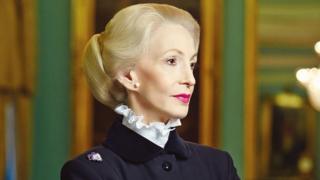 The chairwoman of the Institute of Directors (IoD), Lady Judge, has been suspended pending an investigation into allegations of racist, sexist and bullying behaviour.
Lady Judge contests the allegations, and has accused the IoD of smearing her reputation.
The IoD met on Thursday to discuss the contents of a report it commissioned into her alleged behaviour.
The IoD frequently calls for better corporate governance in UK firms.
Lady Judge reportedly made a number of derogatory comments to colleagues.
She allegedly told the IoD's director general last April that "the problem is we have one black and one pregnant woman [on the IoD secretariat] and that is the worst combination we could possibly have".
Lady Judge said she wanted to make clear that she was seeking to have those individuals removed from their positions "solely on the basis of their performance".
You may also be interested in:
She said: "My acknowledgment that issues of race and pregnancy could complicate their removal both legally and from the standpoint of public perception is an observation I believe most lawyers would make, and that many non-lawyers also know to be true. I was addressing the likely consequences of their dismissal, not the reasons for it."
Lady Judge apologised for the way she had expressed herself in that conversation: "I realise I expressed myself in a way that sounds crude and insensitive. I regret that and apologise for it."
---
Analysis: Simon Gompertz, BBC business correspondent
The Institute of Directors has frequently presented itself as an arbiter of good practice in Britain's boardrooms.
Now we have the spectacle of this highly influential organisation tearing itself apart over allegations of racist and sexist behaviour at the top.
It's not just embarrassing, it threatens to hamstring the IoD in future and enrage its members.
And there seems little chance of the agony ending any time soon.
Lady Judge has made it clear that she will defend herself robustly and expose what she says is a flawed investigation.
---
Fourteen complainants
A spokesman for Lady Judge said the conversation was recorded by IoD director general Stephen Martin in a private conversation without her knowledge.
Lady Judge added: "I, a woman lawyer who has broken many glass ceilings and who has advocated for women and minority rights my entire life, I'm glad that's the case."
Her term as chair was due to expire in May, and she was not seeking re-election.
The IoD's investigation was conducted by Caroline Prosser, an employment lawyer from Hill Dickinson.
She started to gather evidence for the IoD report in December 2017.
Ms Prosser spoke to 14 complainants, who made 41 allegations.
The IoD said on Friday: "The council took the decision, having received the Hill Dickinson executive summary, to suspend the IoD chair pending further investigation into the matters raised and the process."