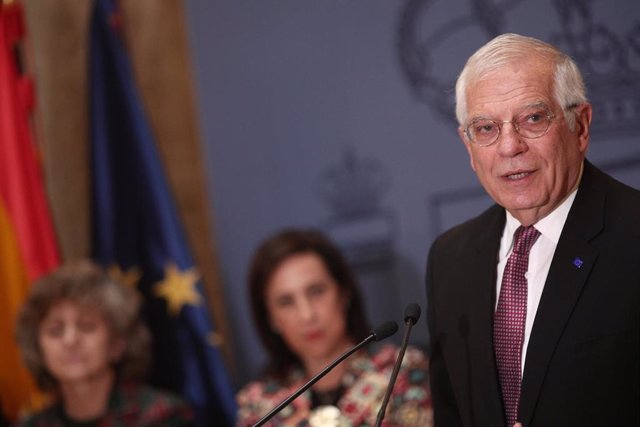 Josep Borrell – Eduardo Parra – Europa Press
BRUSSELS, Dec. 5 (EUROPE PRESS) –
The EU High Representative for Foreign Affairs, Josep Borrell, held a meeting on Thursday with the head of Russian diplomacy Sergei Lavrov, with whom he addressed the crises in Ukraine, Venezuela and Syria among other matters.
The Borrell and Lavrov meeting has taken place on the margins of the ministerial meeting of the Organization for Security and Cooperation in Europe (OSCE) in Bratislava, during which the new head of European diplomacy has also met with the head Foreign Ministry, Mevlut Cavusoglu, as reported by his office in two communiqués.
Borrell has argued that "the full application of the Minsk agreements is crucial" before the celebration next Monday of a Normandy summit – Russia, Ukraine, France and Germany – in Paris to discuss the conflict in the Ukrainian East .
In addition, according to his office, he has also had the opportunity to address with Lavrov the situation in Syria, a country in which Russia is the main support of the Bashar al Assad regime, as well as in Venezuela, where Moscow is also one of the main backers of the President Nicolás Maduro.
According to the office of the high representative, Borrell and Lavrov have agreed to "stay in close contact." In this regard, the Russian Foreign Ministry has stated that they have discussed the reestablishment of "mutually beneficial, equitable and respectful" relations between Russia and the EU, in addition to stressing the importance of engaging in a substantial bilateral dialogue.
The head of European diplomacy and Lavrov have also expressed interest in "developing the process of political consultations between Moscow and Brussels," according to the Russian Ministry, quoted by the Sputnik news agency.
On the other hand, with Cavusoglu, Borrell has discussed "the recent developments in relations between the EU and Turkey and exchanged views on several regional issues, in particular Syria, Libya, the Eastern Mediterranean and Iraq." Both have also agreed to keep in close contact, said the office of the high commissioner.