Boris Johnson targeted by Russia prank caller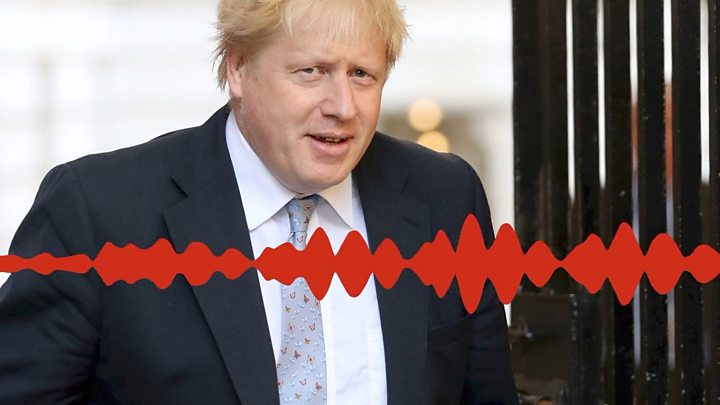 Boris Johnson has been targeted by a Russian prank caller pretending to be the new prime minister of Armenia.
In a recording posted online, the UK foreign secretary congratulates the caller on his election and goes on to discuss UK-Russia relations, the Salisbury poisoning and Syria.
He also expresses surprise and interest when the caller claims President Putin is "influencing" Jeremy Corbyn.
The UK government believes the Kremlin was behind the call.
A senior UK diplomatic source said: "This seems to be the latest desperate attempt by the Kremlin to save face after it was internationally shamed in the wake of the Skripal attack.
"Boris rumbled them pretty quickly and ended the call.
"It is tragic to see a major international power reduced to failed pranks you would usually only see on Trigger Happy TV."
Downing Street said there would be a "Whitehall investigation" into how the caller was able to get through to the foreign secretary.
"Obviously this shouldn't have happened. An investigation is under way to determine the circumstances around this call and to make sure that this does not happen again," a No 10 spokeswoman said.
'Russian knowledge'
The 18-minute recording was posted on YouTube by pro-Kremlin British journalist Graham Phillips, BBC Monitoring reports.
It was credited to two prominent Russian political pranksters – Vladimir "Vovan" Kuznetsov and Alexei "Lexus" Stolyarov, who are in favour with the official Russian media.
Skip Twitter post by @bbclaurak
Apparently hoaxers talked to Alan Duncan first, and his private office gave them a number for the Foreign Sec on his recommendation – awkward

— Laura Kuenssberg (@bbclaurak) May 24, 2018
End of Twitter post by @bbclaurak
It is not clear if the footage has been edited.
After congratulating the caller, Mr Johnson talks of developing UK-Armenia trade and investment links. Asked about Russia, and the Salisbury poisoning, he says he is "almost 100% sure" that Mr Putin was behind the attack and that it is important to avoid a "new Cold War".
He advises the caller to show "determination and firmness" when dealing with Mr Putin.
When the man claims the Russian president talked of his "influence" over the Labour leader and that his goddaughter "met with people of Mr Corbyn", Mr Johnson asks for more information.
"I am sure our intelligence will be listening on this line and they will draw the relevant conclusions," he says.
During the conversation, the caller also describes what he says is a fake video of the aftermath of a suspected chemical weapons attack in Syria, to which Mr Johnson said it seemed to be "very clear" that the Syrian regime was behind a chlorine attack in Douma, "almost certainly with Russian knowledge".
'Prank call'
Mr Johnson also jokes about the number of Russian oligarchs living in London.
"You throw a stone in Kensington and you'll hit an oligarch, some of them are close to Putin and some of them aren't," he says.
The Foreign Office said Mr Johnson realised the call was a hoax.
It added: "We checked it out and knew immediately it was a prank call. The use of chemical weapons in Salisbury and Syria, and recent events in Armenia are serious matters.
"These childish actions show the lack of seriousness of the caller and those behind him."
'Not a fool'
In an interview with BBC Moscow, one of the hoaxers, Vladimir Kuznetsov, said they had been surprised at Mr Johnson's "very diplomatic" tone in private, compared with his "flamboyant" public persona.
But he said it was "comic" to suggest he immediately knew it was a prank: "The conversation lasted for 20 minutes. What a silly statement."
Details of the call were published in the pro-Kremlin tabloid newspaper Komsomolskaya Pravda, with the other hoaxer, Alexei Stolyarov, saying Mr Johnson had turned out to be "a smart diplomat".
"For the first time we spoke with an intellectual, and not a fool," he is reported as saying.