Boris Johnson pushing for more cash for NHS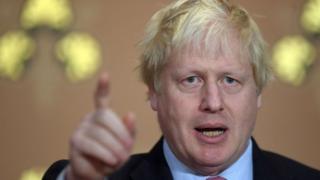 Boris Johnson is expected to push for an extra £100m a week for the NHS in England at a cabinet meeting on Tuesday, the BBC understands.
Health Secretary Jeremy Hunt will give ministers a routine update on how the NHS is coping with winter pressures.
The foreign secretary is expected to use the occasion to demand extra money and a renewed focused on the service.
A source close to Mr Johnson said that there is concern that "Number 10 is abandoning the territory".
The source said he was frustrated at Downing Street's lack of action on the issue given the levels of public anxiety about how the NHS is faring.
Other cabinet ministers who backed leaving the European Union – and the controversial promise of £350m a week for the service after Brexit – like Environment Secretary Michael Gove, are understood to share Mr Johnson's anxiety.
Another cabinet minister told the BBC's political editor Laura Kuenssberg that "everyone says privately that something has to change – we have to offer a reason why we should run it, not just be in a bidding war with the Labour Party."
It is understood that Mr Hunt and Mr Johnson have not had a direct conversation about the latter's planned intervention.
But a source close to Mr Hunt said, "as always, you would expect the health secretary to be arguing for more money for his department and discussions are ongoing".
Growing numbers of Conservative MPs are openly expressing their frustration with Number 10's handling of the NHS winter pressures.
They are particularly concerned about Prime Minister Theresa May's response to calls for a cross-party commission to tackle the long term challenges of facing the health service.
One senior Tory MP told the BBC: "We all know the problem – it is at the centre. There is no decision making."
A Number 10 source said: "We gave the NHS top priority in the last Budget with an extra £2.8bn. We know it is under particular pressure at this time of year."