Boris Johnson: First visit by foreign secretary to Argentina for 25 years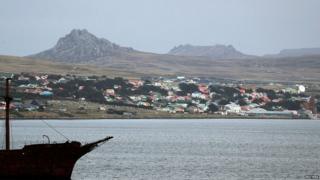 Boris Johnson is to make the first visit by a British foreign secretary to Argentina for 25 years.
Mr Johnson will seek to take advantage of the improvement in relations with Buenos Aires since President Mauricio Macri came to power in 2015.
Mr Macri has talked of lifting curbs on oil, fishing and shipping around the Falkland Islands as tensions eased.
Mr Johnson will also visit Peru and Chile, in an effort to boost post-Brexit trade, during the five-day tour.
Mr Macri has promised a "new kind of relationship" with the UK following a decade of tensions over the Falklands Islands, a UK overseas territory located about 530km (330 miles) off Argentina's coast, over which Buenos Aires has long claimed sovereignty and whose invasion in 1982 led to a 74-day military conflict with the UK.
His predecessors Nestor and Cristina Fernandez de Kirchner sought to isolate the Falklands economically, putting pressure on British and US companies not to drill for oil in the waters around the islands and requiring all vessels travelling between Argentina and the islands to seek prior permission.
Since Mr Macri came to power, greater dialogue between the countries has resulted in more direct flights between the islands and Argentina and a project to help identify the remains of unknown Argentine soldiers who died during the conflict and were buried on the islands.
'Vibrant and dynamic'
The UK is keen on deeper economic and political co-operation with Argentina but has insisted the question of the Falklands' sovereignty is not on the table.
In 2013 the islanders voted overwhelmingly to remain a UK territory.
As well as holding talks with Mr Macri, Mr Johnson will attend a meeting of G20 foreign ministers in Buenos Aires. This is a precursor to a summit of world leaders in the country in November which will mark the end of Argentina's annual presidency of the body.
During his trip to Peru – the first by a British foreign secretary since the 1960s – Mr Johnson will venture into the Amazonian rain forest to visit an animal rescue centre and a school, whose electricity and drinking water are provided by a UK-funded solar heating scheme.
The focus of the final leg of his trip to Chile will be on trade, with the UK keen to increase its currently low level of exports to the country. Chile has a free trade agreement with the EU which the UK wants to roll over after Brexit.
"Latin America is a vibrant and dynamic part of the world that works closely with the UK on a number of issues including trade, security, science, infrastructure and education, among others," Mr Johnson said ahead of the trip.