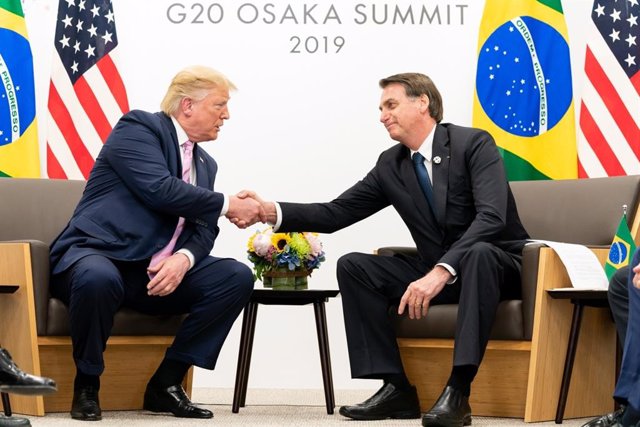 The presidents of the United States, Donald Trump, and Brazil, Jair Bolsonaro – Shealah Craighead – Archive
RIO DE JANEIRO, Dec. 2 (Reuters / EP) –
Brazilian President Jair Bolsonaro has hoped that his US counterpart, Donald Trump, will not "penalize" the South American giant with tariffs on aluminum and steel, as he announced Monday as punishment for Brazil and Argentina for devaluing their coins
"I'm going to call him not to penalize us … I am almost convinced that he will listen to us," said the ultra-right-wing leader in an interview with Radio Itatiaia.
Bolsonaro has explained that Brazil's economy depends heavily on raw materials, so such a tariff would be a severe setback. "I trust (Trump) understands," he said.
In addition, he has justified the devaluation of the real to weather the economic storm, stressing that Brazil's economy "is not comparable" to that of the United States because that of the US power is "much greater."
Trump announced this Monday that he will restore "with immediate effects" the tariffs levied on US imports of steel and aluminum from Brazil and Argentina, which he accuses of a "massive devaluation" of their respective currencies to the detriment of the farmers of U.S.
"Brazil and Argentina have been presiding over a massive devaluation of their currencies, which is not good for our farmers," said the US president through the social network Twitter.
Trump has presumed that US markets accumulate a revaluation of 21 percent since the announcement of tariffs in March 2018. "The United States is absorbing large amounts of money (and giving something to our farmers, who have been targeted by China )!", has added.
He has also demanded that the Federal Reserve act accordingly so that other countries "do not continue to take advantage" of the strength of the dollar devaluing their currencies. "This makes it very difficult for our manufacturers and farmers to export their products fairly. Lower and more relaxed types," he said.