Bolsonaro suggests that a journalist tried to gather information against him in exchange for sex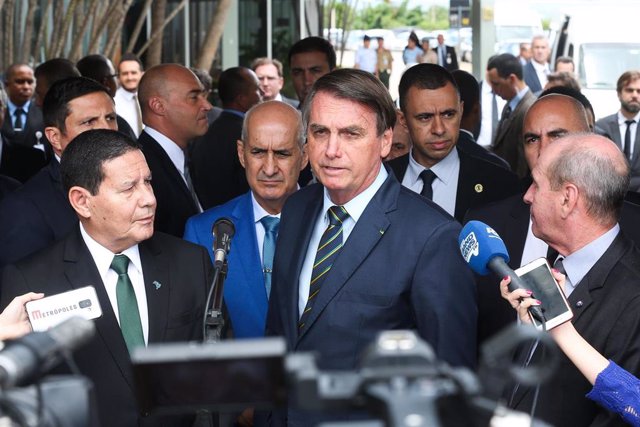 The Brazilian president, Jair Bolsonaro. – Antonio Cruz / Brazil Agency / dpa
MADRID, Feb. 19 (EUROPE PRESS) –
The president of Brazil, Jair Bolsonaro, attacked a well-known Brazilian journalist on Tuesday, insinuating that he had tried to obtain information in exchange for sexual favors with the employee of a company that had been reported for spreading false news against the Workers Party (PT ) during the 2018 election campaign, which ended up winning the ultra-right leader.
The award-winning journalist of the newspaper 'Folha de Sao Paulo' Patrícia Campos Mello has been harassed by supporters of Bolsonaro through social networks after revealing how several marketing companies would have been sending false information about social media and WhatsApp PT and his candidate for the Presidency of Brazil in the past, Fernando Haddad.
"She wanted a 'furo'. I wanted to give a 'furo' at any price against me," Bolsonaro said among the laughter of his supporters at the exit of the Palacio de la Alvorada. The word 'furo' in Portuguese has a double meaning, since it means 'scoop' and 'hole', with sexual connotations.
Bolsonaro has made reference with his insinuations to the accusations that Hans River do Nascimento, an employee of those alleged advertising companies that participated in the 2018 campaign discrediting the PT, poured over the journalist, ensuring that he had been looking for "a certain type of information in exchange for sex. "
Do Nascimento had to testify before a parliamentary commission after the newspaper 'Folha de Sao Paulo' published in December 2018 how this network of companies would have illegally used the names and social security numbers of very old people to give High mobile phone numbers with which to spread fake news through WhatsApp.
The Brazilian newspaper denied these accusations at all times and made public the conversations that the journalist had had at all times with her sources.
Since the conservative leader took over Brazil in January 2019, he has always maintained a difficult relationship with the media, which he has repeatedly described as "dirty," "disgusting," "immoral," and even He came to threaten newspapers like 'Folha de Sao Paulo', with taking measures that could put his finances at risk. "That newspaper is over," he said.
The price to be paid was already announced by Bolsonaro when he won the victory in the elections, by ensuring that all those media that had launched "lies" against him would cease to receive benefits from state advertising, which in 2017 amounted to 470 million euros.
Already in 2020, and in less than a month, Bolsonaro again attacked the press several times. The first of these, by ensuring that reading newspapers "poison", so that his Government would not renew agreements with the media so that the headquarters of the Presidency receive the newspapers every morning.
"Everything has been canceled. I don't receive newspapers or magazines. Whoever wants them to buy them," Bolsonaro said after accusing journalists of being complacent to other governments in exchange for state publicity for their media.
Days later, the leader of the extreme right, when asked about the alleged corruption that one of the members of the government team of his son, Flavio Bolsonaro, in Rio de Janeiro, would have committed, responded to the journalist who had "an incredible homosexual face "and" not for that "would accuse him of it.
During that same appearance at the exit of the Palacio de la Alvorada, he attacked another journalist by questioning that he was his father's son.