Bolsonaro recalls that the "inmate" Lula "still has all the crimes behind him"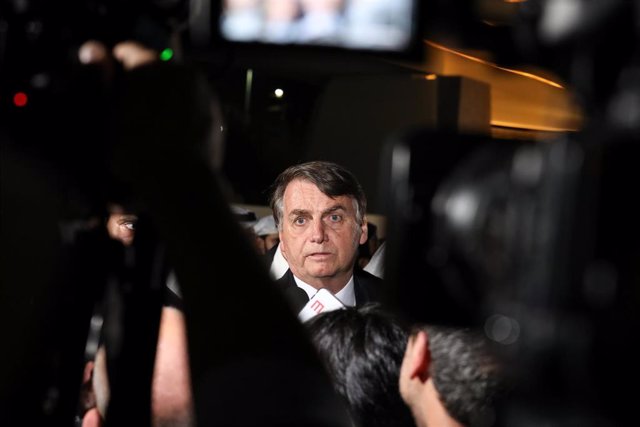 The president of Brazil, Jair Bolsonaro – – / Brazilian Presidency / dpa
BRAZIL, Nov. 9 (EUROPE PRESS) –
The Brazilian president, Jair Bolsonaro, recalled this Saturday that the "inmate" expresses Luiz Inacio Lula da Silva still has accounts pending with the justice despite the judicial decision this Friday that has allowed his release.
"The vast majority of the Brazilian people are honest, hardworking and we are not going to give space or contemplate with an inmate. He is loose, but he still has all the crimes behind him," Bolsonaro said in press statements from the Palacio de la Alvorada, official residence of the president of Brazil.
In addition, Bolsonaro has highlighted on Twitter the work of Justice Minister Sergio Moro, who was responsible as a judge to send Lula to prison. The president has subsequently indicated without citing Lula "no ammunition to the scoundrel". "Momentarily he is free, but full of guilt," he has riveted.
Moro has also commented on Twitter the release, he has regretted it, but he has called to respect the measure of the Supreme. "Fighting for Justice and for public safety is not an easy task. We have to wait for victories and setbacks. We prefer the former and regret the latter, but we will never give up. The decision of the Federal Supreme Court must be respected, but it can be altered." , has indicated.
The former president left Friday in Curitiba prison, where for more than a year and a half he had been purging two convictions for corruption that amount to more than 20 years in prison, according to a recent ruling by the Supreme Court (STF) that allows him to wait in freedom a firm judgment of both processes.
Lula was sentenced in July 2017 to nine and a half years in prison for accepting a luxury triplex as payment to the political favors he made to the construction company OAS. Subsequently, the penalty was changed, first to twelve years and one month and finally to eight years and ten months.
Last February, the former union leader received a second conviction for corruption. This time, twelve years and eleven months in jail for the reforms that the construction companies OAS and Odebrecht made in a rural property attributed to Lula in Atibaia, Sao Paulo, also as payment to their political favors.