Bolivia names former President Quiroga to denounce the alleged violation of Human Rights "led by Morales"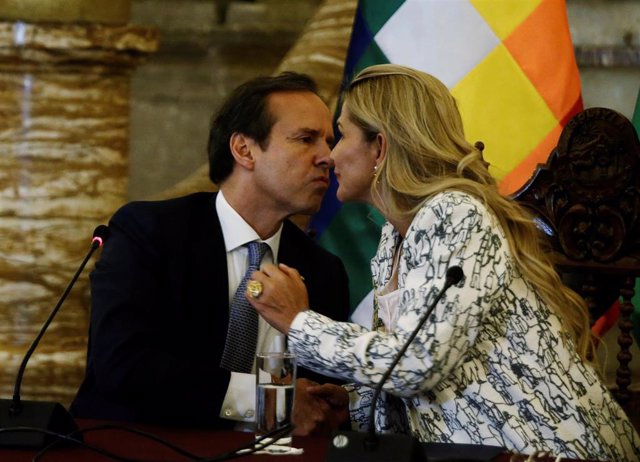 The self-proclaimed president of Bolivia, Jeanine Añez, and former president Jorge Quiroga, in La Paz (Bolivia). – REUTERS / DAVID MARKET
LA PAZ, 3 Dec. –
The Government of Jeanine Áñez, self-proclaimed interim president of Bolivia, has elected former President Jorge Quiroga (2001-2002) on Monday to explain to the international community "the violation of Human Rights" which, as he explained, "led Evo Morales" when "he took 11 million Bolivians hostage."
Quiroga has stated that a "long tyrannical night of almost 14 years has come to an end" and, in that sense, his job will be to explain to organizations such as the Organization of American States (OAS), or the UN, "the shameful attempt to steal the elections "that Morales allegedly launched.
According to the current Executive, "a handful of vandals" tried "to take the eleven million Bolivians hostage", in addition to "fencing cities", "burning houses" and "hitting citizens" who think differently "to the dictatorial government of MORE". All this, they said, "led by Evo Morales", as collected by the local newspaper 'La Razón'.
Morales resigned on November 10 after the OAS noted "irregularities" in the presidential elections on October 20. Since then, he is in Mexico as a political asylee.
The indigenous leader and his supporters denounce that he has been the victim of a "coup d'etat", so they do not recognize the Government of Áñez, while he has denounced him for terrorism and sedition, among other charges.
The party of Morales, the MAS, and the other political formations reached an agreement in the Legislative Assembly to hold new elections, which could take place in mid-March, and thus resolve the crisis. The text expressly vetoes the former president and his vice president, Álvaro García Linera.
More than 30 people have died and hundreds have been injured because of clashes between Morales supporters with security forces and other sectors. In recent weeks the situation has calmed down, although there are still protests.