Bolivia describes the relationship with Argentina as "delicate" and announces complaint to the UN for sheltering Morales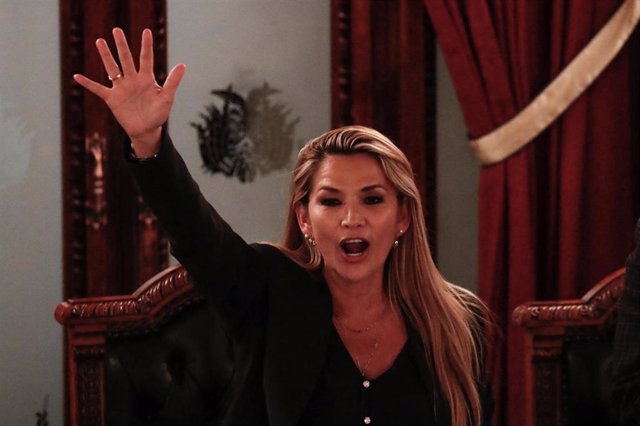 Bolivia's opposition senator Jeanine Añez after assuming the Presidency of the country. – REUTERS / CARLOS GARCIA RAWLINS – Archive
LA PAZ, Dec. 24 (EUROPE PRESS) –
The interim government of Bolivia has admitted on Monday that the relationship it has with the new Argentine Executive of Alberto Fernández "is delicate", because "it cannot be that he is trying to protect a citizen" accused of "electoral fraud" and " sedition ", so a formal complaint will be filed with the United Nations.
"Unfortunately there is a very delicate position with the sister country of Argentina. It will be the Ministry of Foreign Affairs that has to make the approaches," said acting Minister of the Presidency, Yerko Nuñez, in an interview that echoed the Bolivian newspaper 'La Razón'.
"It is clear that the former president divides the Bolivians. He cannot issue any criteria, that is why he is going to make a complaint to the United Nations, because unfortunately the only thing Morales does is divide and confront the Bolivians," he said. Núñez regarding the demonstrations that the indigenous leader has been carrying out since he had to leave the country on November 12 due to the siege of the military and the opposition.
Núñez has shown his concern about the possible messages that the former president of Bolivia can launch from Argentina, "as Morales is deceiving the Bolivian people", since, he said, "there was an electoral fraud" and that made people leave " to defend freedom and democracy. "
In that sense, he insisted that Morales after his march to Mexico "caused sedition and summoned the social movements to fence the cities and starve the Bolivians."
On the other hand, the acting Foreign Minister, Karen Longaric, has explained the reason why the president of Argentina still would not have credited the Bolivian diplomats.
According to Longaric, the new Government of Casa Rosada is in the process of organization, so they hope that after Christmas, "awareness" of the diplomatic proposals of the self-proclaimed Bolivian Government will be made.
"Foreign Minister Felipe Solá has advanced that relations with Bolivia will be subject to the provisions of the Vienna Convention. Argentina has not rejected the accreditations of Bolivian diplomats, it simply has not known such requests in a comprehensive manner," Longaric said.