Bolivia announces the sending of a representative to Spain to "overcome the impasse" of the diplomatic crisis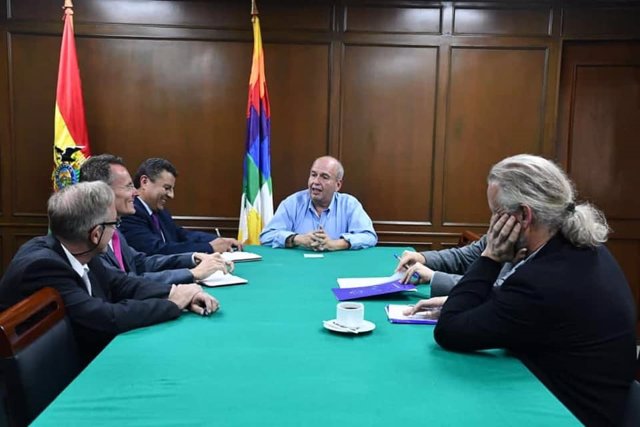 Meeting of the Government Minister of Bolivia, Arturo Murillo, with diplomatic representatives of the EU – MINISTRY OF GOVERNMENT OF BOLIVIA
La Paz says that "he has had and has excellent diplomatic relations with the EU and its members and wishes to keep them at that level"
MADRID, Jan. 1 (EUROPE PRESS) –
The Bolivian Government has announced the sending of a "high representative" to its Embassy in Spain to "overcome the impasse" of the diplomatic conflict unleashed after the incident of last December 27 that led to the expulsion of two Spanish diplomats by Bolivia and the of three Bolivian diplomats from Madrid.
"Bolivia wishes to overcome this impasse as soon as possible and maintain close relations with the Kingdom of Spain, within the framework of traditional respect and friendship that have always characterized them. For this purpose, the Constitutional Government of Bolivia will accredit at the Embassy of Bolivia in Madrid to a high diplomatic representative, "the Bolivian Ministry of Foreign Affairs reported in an official note.
In any case, La Paz maintains that the "situation" of December 27 "has been duly explained in the communiqué issued by the Bolivian Ministry of Foreign Affairs on that same date and, if necessary, will provide the additional information required" . These facts were what motivated the two Spanish diplomats to declare 'persona non grata'.
This communiqué has been published after a meeting between the Bolivian Government and the Delegation of the European Union in Bolivia, which informed "its deep concern about the escalation of diplomatic tension" between Bolivia and Spain and that "I would appreciate receiving as soon as possible a explanation from the interim government of Bolivia "about what happened.
The meeting was attended by the Minister of Government, Arturo Murillo, from Bolivia, and diplomats from Germany, France, Denmark and the European Union from the other side. "Minister Arturo Murillo (…) gave details on the determination to declare unpleasant persons to representatives of Spain and Mexico. Complete information on a determination worthy of the Government," explained the Ministry of Government in a message posted on Twitter.
The self-proclaimed president of Bolivia, Jeanine Áñez, declared unpleasant people to the charge of business of the Embassy of Spain, Cristina Borreguero and the Spanish consul, Álvaro Fernández, after the incident on Friday, when the Bolivian Police prevented access to the residence from the Mexican ambassador in La Paz to two Spanish diplomatic cars.
Four policemen left the cars with the lower half of their faces covered and "allegedly armed," according to Bolivian authorities, who denounced that this meant "running over" their sovereignty. The Mexican ambassador, María Teresa Mercado, was also expelled.
Bolivia maintains that they were trying to evacuate from the Mexican diplomatic residence several senior government officials of former President Evo Morales, forced to resign on November 10 amid popular demonstrations and the lack of police and army support after irregularities in the presidential elections last October 20 in which Morales achieved a controversial re-election.