Bob Higgins trial: Ex-football coach 'was serial abuser'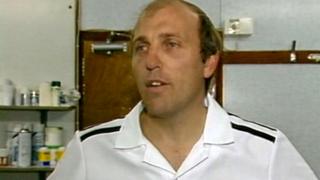 A former football coach was a "serial abuser of young teenage boys" at professional clubs, a court has heard.
Bob Higgins, 65, is accused of groping and other abuse against 24 boys, many of them trainees at Southampton and Peterborough United.
The charges, dating between 1971 and 1996, arose after the NSPCC set up a dedicated helpline to deal with sexual abuse in football, the court heard.
Mr Higgins denies 50 counts of indecent assault at Salisbury Crown Court.
Adam Feest QC, prosecuting, said: "The telephone started to ring and one name was mentioned over and over again – that of Bob Higgins."
The helpline was set up in response to publicity generated by allegations of abuse in football in a BBC TV programme, Mr Feest said.
"The young footballers came to idolise the defendant," he told the jury.
"He held supreme power over their footballing futures, a fact which he made abundantly clear to them."
Mr Feest said if any boy complained, it put their hopes of playing professional football in "serious jeopardy".
He said the defendant was a "talented coach, spotting and nurturing many young players who went on to achieve significant success, nationally and internationally".
"The young teenagers would join in with sexualised behaviour, their infatuation making them blind to the real nature of it," he added.
"The boys realised that they needed to impress their coach and, particularly those with slightly less footballing talent, to keep in his good books both on and off the training pitches."
The abuse ranged from fondling the boys when they stayed overnight at his house to more serious sexual assaults during massages, the court heard.
Mr Higgins developed a "perverse affectionate attachment" to some boys, telling them he loved them, Mr Feest said.
The jury was given details of one boy who said he had been forced to perform a sex act on the defendant in a bedroom.
He did not report the alleged abuse at the time "perhaps through fear", after being threatened by the defendant, Mr Feest said.
Mr Feest said many trainees felt they would not be believed because of the defendant's position and the "prevailing atmosphere at the time about this type of offending".
The "predatory paedophile" gained the trust of the boys and their parents, and acted "with near impunity", the court was told.
A number of boys were released from their contracts when they fell out of favour, Mr Feest said.
The court heard one 15-year-old, who later turned professional, bought a Ford Capri to escape Higgins after repeated assaults.
Mr Feest said the teenager, who had never driven before, fled from Southampton to his home in the north of England..
He added: "He had no idea where he was going, went through central London, and did nearly all of the journey in first or second gear."
'Soapy massages'
A week later, Mr Higgins told the boy that if he made any accusations, he would make sure he "would never play football again", the court heard.
One trainee was told he would not have been released had he been "more affectionate", the jury was told.
Another recalled how he came to accept "cuddling and kissing goodnight" from Mr Higgins "in order to progress his football".
Several alleged victims were subjected to "naked soapy massages" at training centres, Mr Feest said.
One boy, who later turned professional, said the massages from Mr Higgins were "more thorough" than from other coaches.
The jury heard Mr Higgins, from Southampton, was found not guilty at a trial for similar offences in the 1990s.
The trial continues.