Boarding school 'sorry' for 'blacked up' slave photo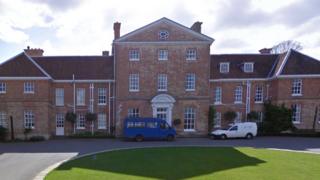 A boarding school has apologised after a group of boys "blacked up" and dressed as slaves for a photograph.
Sixth-formers at the Oratory School in Oxfordshire, wore the make-up and costumes for their leaving pictures, which were published on social media.
The pupils were stopped from taking part in an "informal" photo shoot, but took their own picture, which was posted online.
The school has apologised "unreservedly".
"The pupils involved have been punished as part of our disciplinary process.
'Slave gang tableau'
"We will strengthen our tutorial programme to ensure that it is understood by all our pupils that such representations are utterly unacceptable," a spokesman said.
The school, which has fees of over £11,000 per term, told the BBC it takes a formal leavers' photo of its sixth-form students.
It also takes an informal photo, where pupils dress up in costumes.
A group of the boys had created "a tableau of a slave gang, with the white boys dressed as black slaves and the black boys as white slave owners".
The images were condemned on social media.
The headmaster and senior staff were present when the group tried to join the formal photo.
"The headmaster refused to allow the offensively-dressed pupils to participate, and the photo was taken without them being included," said the spokesman.
"The photo – the existence of which we were unaware – that was taken and posted on social media was taken unofficially and was in no way with the consent or blessing of the school."
The school said it was "extremely shocked and saddened" about the incident and apologised "unreservedly for the offence caused".
"The Oratory School unequivocally condemns racist imagery of any sort: we are a diverse and inclusive community," said the spokesperson.