Blackburn: The town that fails to elect Asian women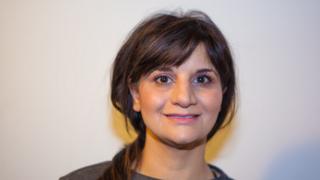 Despite having one of the largest Asian populations in England and Wales, politicians say Blackburn's council has never elected an Asian woman. Areas with a similar demographic have managed it, so why hasn't this town?
"I was told to look like a Muslim. I was a woman with a stigma, I'd left a forced marriage.
"Comments were also made about my sexuality, there were other much worse things said."
Saima Afzal stood as a Labour candidate in different Blackburn wards in 1999, 2000 and 2001 – coming second each time.
The former Assistant Police and Crime Commissioner for Lancashire claims some Asian men in the community were unsupportive.
And 15 years on, it seems little has changed – Blackburn with Darwen Council is yet to have an Asian woman represent one of its wards.
The authority's leader Mohammed Khan believes it is because they have "other priorities".
"Their jobs, their house and caring responsibility," explains the Labour councillor of 25 years.
"We do so much to encourage them to come forward, we give them training and tell them how the system works.
"But this is not paid, it's a voluntary job. It's their choice, we can't force them to come into the council."
Blackburn saw an influx of Pakistani and Indian immigrants move to the area in the 1960s, many of whom went to work in the textile mills at a time the town was known for its booming cotton industry.
Fast forward 50 years and the borough now has the 11th largest proportion of Asian residents out of 174 local authority areas in England and Wales.
At the 2011 census, nearly a third of its 147,500 residents were recorded as Asian, of which half were women.
Yet the demographics are not fully reflected by the area's political make-up. Of the 39 men elected to represent Blackburn, 19 are Asian men; there are no Asian women councillors.
"When I stood, it was to raise issues that women face," says 46-year-old Ms Afzal, who is standing again in May's local elections.
"We should be able to work and have a full education. I felt the [issues] weren't prevalent at the time and we needed to raise them."
But the town's MP Kate Hollern believes it is "more difficult" for Asian women from traditional families to get involved in politics.
"Asian women play a prominent role in many local organisations – all of which feed into the decision-making process of the area.
"It may be however that the structures of elected politics, with frequent evening and weekend meetings, make it difficult for women who remain generally the main carers in families, to get more involved."
But is it really as simple as a difference in culture which traditionally casts men as the dominant breadwinner and decision-maker, while the women focus on family and home?
Some political parties would disagree. They say they have been trying for years to change the landscape in Blackburn by fielding Asian female candidates in local elections.
But their attitude for change has so far not been matched at the polls.
Malcolm Doherty, who was on the council from 1980 to 2012, claims that during his tenure he detected an "anti-woman feeling" and "the men [in Asian wards] wouldn't vote for them".
The former Labour councillor said: "It was quite strong at that time, they didn't want [Asian] women councillors. I could never understand it.
"It was very difficult, we tried to get them [elected] in Asian wards and then to wards which weren't Asian, but weren't successful.
"Saima stood and she was a very good candidate. It was a sad loss she wasn't elected."
You might also be interested in:
Homeless 'devastated' by doorway death
India mourns Bollywood superstar Sridevi
NZ reacts to 'creepy' PM Ardern interview
Blackburn, neighbouring Darwen and parts of Turton joined in 1998 to form a unitary authority, which is currently Labour-run with 48 male and 16 female councillors.
While Darwen and Turton has a Middle Eastern female councillor of Jordanian decent, it has no representation from the Asian community, male or female.
It is in stark contrast to similar towns not far from Blackburn, such as Oldham, Rochdale and Bury, where at least one Asian woman has been elected to the council.
The nearby Chorley authority has two – Hasina Khan and her daughter, Zara, 23.
The former became interested in politics in 2003 after she had "absolutely had enough" of the monotony of "cooking, cleaning and school runs".
"Blackburn has this biradari [tribal/clan network] system more like the Pakistani politics back home, which is of course male-dominated and where the heads of families are men who make most decisions.
"This is one of the main reasons why there are no Asian female councillors."
Encouraged by her MP Lindsay Hoyle to go out canvassing, she joined Labour before standing as a candidate – going on in 2006 to become the first Asian female councillor in Lancashire outside the unitary authorities.
She accepts women have a "caring responsibility" in their culture, but said when she stood the support from her family, in "particular the men, [was] excellent".
"The electorate [in Chorley] was 99% non-Asian, there was no tribal system here to try block me."
She describes hitting a brick wall when trying to recruit other Asian women to stand.
"The biggest hindrance is family themselves, fathers, brothers, husbands. They say 'what's the community going to say?' and 'politics isn't for women, they should be looking after the home'."
Political activist Farzana Afzal, who is based in Manchester, says some Asian women are "too occupied in their house work, children and household duties", while others face a language barrier.
"The women who've come from abroad, they don't watch BBC News or mainstream channels because they can't follow it. They watch Pakistani channels about politics over there."
The knock-on effect, according to teenagers in the town, is that there are no female role models in Blackburn.
At the West End Girls group – set up to help youngsters develop leadership skills – Taybah, 15, thinks Asian women are "not being represented".
"I think culture is potentially holding them back," adds Huma, 15. "It's a full time job, Asian women are attached to their families.
"The idea isn't put into your mind when you're young [to be in politics]."
Conservative group leader John Slater believes the "cultural issue… seems to be a trait in Blackburn".
"I'm quite sad about it, the opportunities are there but they're not being taken up," he says.
Parliament is currently at its most diverse with 52 of the 650 MPs elected from ethnic minorities. Of those, 26 were women – representing just 4% of all MPs.
With those figures, "it is therefore no surprise that Asian women at the grassroots level of politics do not think [it] is an arena for them," says Rushanara Ali, Labour MP for Bethnal Green and Bow.
She believes there should be more government help to encourage ethnic minorities to get into local politics.
The mantel is being taken up in cities where there are large Indian, Pakistani and Bangladeshi communities such as Birmingham, Leicester, Manchester and Bradford, where there are up to eight Asian women on their councils.
But unsociable hours and commitments to constituents could still prevent Asian women in towns like Blackburn from getting involved, says Dr Victoria Honeyman, British politics lecturer at the University of Leeds.
"This all eats into family time and, again, as the caring responsibilities tend to fall unevenly on women, particularly in traditional family units as is common in Asian communities, it can create additional barriers to women engaging in politics.
"The local elections will be the next opportunity for Asian women to challenge the status quo through the ballot box."