Biggest Weekend: Rita Ora, Craig David and MØ on the first songs they ever wrote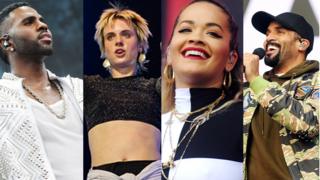 Jason Derulo, Rita Ora and Craig David are among the megastars who've played the BBC's Biggest Weekend in Swansea.
But before they started writing chart-topping hits, they had plenty of awkward misses too.
"I wrote a song called Crush On You for this girl in my class when I was eight years old," Jason tells Newsbeat.
We asked Jason, Craig and other stars to recall – and sing – those lyrics that were the first steps on their careers as professional musicians.
MØ
As well as her solo material, the Danish singer has written huge hits Lean On, Cold Water and All My Love with Major Lazer.
But she says her first song wasn't such a success.
"It was called Seven Nights, which I wrote when I was nine," the 29-year-old says.
"The song was about wanting to have a vacation from school. The lyrics went 'I want to be free, free, seven nights'. It was super lame.
"I was a big fan of the Spice Girls, so I wanted to write in English, but my English was very poor."
MØ even has physical evidence of her early songwriting.
"I have this book of all the songs that I wrote as a kid," she says.
She returned to her hometown, Ubberud, to film the video for her new single Nostalgia.
"My parents have been really lovely and kept the stuff like that in my childhood room that they know meant a lot to me."
Jorja Smith
At just 20 years old, Jorja has already dueted with Drake, toured with Bruno Mars, and won the Brits Critics' Choice Award.
And it seems the Walsall singer-songwriter's talents were obvious from early on.
"The first song I wrote was called Life Is A Path Worth Taking. I wrote it when I was 11," she says.
"The lyrics were: 'Life is a path worth taking, you need to find the right steps to make it clear and faithful to you'. It was a bit deep. I've still got it tucked away somewhere."
Craig David
Craig hit number one with his first solo single Fill Me In, and sold more than eight million copies of his debut album Born to Do It. He was just 17.
He had written his first song four years earlier.
"It was called Need Somebody. I would have been 13 then," he said speaking to Newsbeat after his performance at Singleton Park in Swansea for the Biggest Weekend.
"I submitted it to a songwriting competition, and it didn't make the cut, but it showed me that at least I was good enough to get a reply."
You probably didn't know Craig has a link to 90s boyband Damage. Aged 15, he entered another songwriting competition with a song appropriately named I'm Ready. This time he won.
"That went on the B-side of their single Wonderful Tonight, which went to number three in the UK chart. I definitely boasted to my friends about that at the time."
Rita Ora
"Been waiting for a lifetime for ya," sings Rita on her hit duet with Liam Payne, For You.
And she tells us that's been a theme of her songwriting since the start.
"My first was a song called I'll Be Waiting, which I wrote when I was 15. It goes 'I'll be waiting for you to set me free'.
"I guess I'm still waiting for someone to sweep me off my feet."
Jason Derulo
The R&B singer is known for his seductive lyrics on hits like Talk Dirty, Swalla and Wiggle. Even at school he was charming.
"I wrote a song called Crush On You for this girl in my class when I was eight years old," Jason says.
"The lyrics went: '24/7, days of the week, mind is on you and it's getting to me, I got a crush on you'."
Sadly, the romance didn't happen.
"You know what? I never sang it for her."
Grace Chatto from Clean Bandit
Since picking up the cello as a child, Grace has gone on to huge chart success as part of the electronic trio, helping compose songs including Rockabye, Symphony and I Miss You.
It's perhaps no surprise that the 32-year-old, who studied at both the prestigious Royal Academy of Music, and at Cambridge University, wrote an intelligent first track.
"I wrote a song when I was seven or eight, called Phenomenal Woman, based on the poem of the same name by Maya Angelou.
"I also wrote a string quartet when I was 16."
Well now you're just making us feel bad about ourselves.
Follow Newsbeat on Instagram, Facebook and Twitter.
Listen to Newsbeat live at 12:45 and 17:45 every weekday on BBC Radio 1 and 1Xtra – if you miss us you can listen back here.
You can find out how to watch and listen on the official Biggest Weekend site.