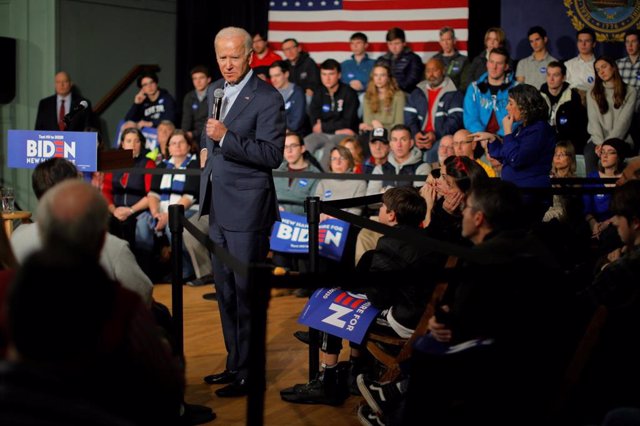 Democratic candidate for the 2020 general election Joe Biden during a campaign event at Exeter, in the state of New Hampshire. – REUTERS / BRIAN SNYDER
WASHINGTON 31 (Reuters / EP)
Democrat Joe Biden, one of the main candidates of his party for the presidential elections of 2020, has said Monday that he considers the possibility of including a Republican in his candidacy in case he is elected to occupy the White House next year.
The former vice president under the Obama Administration has expressed himself in these terms at a campaign event in Exeter, in the state of New Hampshire, in the northeastern United States. However, despite shuffling the possibility, he explained that at the moment "he does not have in mind" any Republican politician.
Throughout the election campaign, Biden has defended the need to work also with independents and Republicans, especially if he wins in the presidential elections next year.
In that sense, he has criticized the Republican Party for not having done enough to hold the president of the United States, Donald Trump, responsible after accusations of abuse of power that weigh on him and for which he was subjected to an 'impeachment' two years ago weeks
"There are some really decent Republicans who are still out there," Biden said, for whom, however, "the problem" is that Trump's party mates have not been strong enough against the tycoon.
Opinion polls continue to show Biden as the preferred election among the Democrats, ahead of Senators Bernie Sanders and Elizabeth Warren, the most chosen candidates left in the formation and who in principle would not have the support of sectors more center of the party.
The intention of including a politician from another formation that Biden has spoken about is not new in American politics. In 2008, the late John McCain wanted to include his friend, the Democrat turned independent, Joe Lieberman in his Republican candidacy.
However, pressures within the party pushed him to choose the very conservative Sarah Palin as vice president, something that finally proved detrimental to his candidacy following the victory of Barack Obama in the elections.