BGT judge Amanda Holden opens up about stillbirth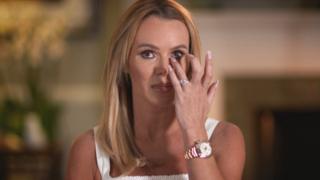 Britain's Got Talent judge Amanda Holden has spoken about the loss of her son Theo, who was stillborn seven years ago.
The TV star was seven months pregnant when she lost her son in 2011.
In an interview with ITV Tonight to mark the 70th birthday of the NHS, Holden said her son "looked so normal and so peaceful".
"I was still his mummy," she said of her last moments with Theo. "So I held him in my arms and I said goodbye."
She went on to praise the NHS staff who supported her and her husband Chris Hughes.
"I couldn't have done it without the incredible team around us," said Holden, who has two daughters.
"And, you know, my husband, obviously, was so strong and so amazing. But they got him through it too.
"And then subsequently the days and months afterwards the same team of people checked on us every single day.
"And it's not because I'm the telly or famous or anything like that. I believe they would have extended that care to any woman, to any family in my situation."
The Tommy's charity says 1 in every 225 births ends in a stillbirth in the UK.
It says the UK was ranked 24th out of 49 high income countries in 2016 for stillbirth rates, with Croatia, Poland and the Czech Republic among the countries that have better records.