Berkshire wolf escaped 'after gate left open'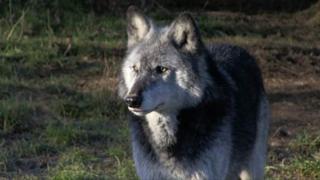 A wolf is on the loose after escaping from a sanctuary when strong winds brought down fencing.
Thames Valley Police texted residents in part of Berkshire, warning them about the escaped animal and children are being kept inside schools.
The animal is thought to have fled from the Wolf Conservation Trust's site in Beenham at about 08:00 GMT.
Officers say they have sight of the wolf and are hoping to shoot it with a tracker dart to help them catch it.
It has been spotted at various locations including Upper Bucklebury and most recently near Curridge, more than 10 miles to the west of the sanctuary.
One parent, Tony Roe, told the BBC police officers were outside his child's local primary school by 08:30 to usher pupils inside.
Mr Roe said: "An officer on the school gate told me a wolf had escaped after wind blew down part of the fence."
Sian Champkin, whose husband works at Elstree School in Woolhampton, said students were being told not to go outside.
Officers are advising members of the public not to approach the wolf if they see it.
At the scene: BBC reporter Nikki Mitchell
The wolf has travelled miles from where the Wolf Conservation Trust is and still hasn't been captured yet.
I'm somewhere between Coldash and Curridge and the wolf is believed to be in a very large area of rural land behind Down House.
There's a helicopter circling overhead, trying to keep an eye on the animal, there are teams of police out, along with Animal Capture UK, a company that specialises in capturing wild animals.
They are trying to get a transmitter dart into the wolf so they can then follow its position exactly.
Then they really have no choice but to use a tranquiliser dart to make the wolf fall asleep so they can take it back.