Bercow's behaviour unworthy of role, says ex-Black Rod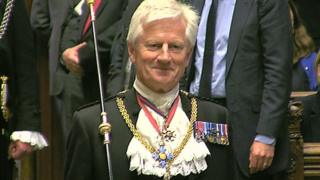 Commons Speaker John Bercow's behaviour is "unworthy of someone in such public office", an ex-senior Parliament official has said.
David Leakey, who was responsible for keeping order in the House of Lords, told PoliticsHome he had seen "explosive and intemperate behaviour".
The Speaker rejects all the claims levelled by Mr Leakey, a spokesman for Mr Bercow's office said.
It comes as Mr Bercow faces allegations of bullying, which he denies.
Mr Leakey, who served as Black Rod until 2017, told the PoliticsHome website: "His (Mr Bercow's) explosive and intemperate behaviour is legendary, objectionable and unworthy of someone in such public office – conduct which may not stand up to the standards expected in public life.
"There were lots of people who were, frankly, terrified of the Speaker."
He said that there was one occasion when "the red mist suddenly descended" and Mr Bercow erupted into a rage, banging the table and making rude comments.
"It was quite disproportionate and unreasonable by any standards," he said.
A spokesman for Mr Bercow's office said: "John Bercow and David Leakey are two very different people with very different backgrounds, perspectives and ideas.
"They had fundamental disagreements in 2011 and 2012, but interacted adequately after that."
The Speaker's Chaplain Rev Rose Hudson-Wilkin told BBC's Daily Politics that Mr Bercow was "very kind, caring and compassionate."
"I know that if he felt that he had done something to someone, that he would be mortified," she said.
"It feels like a frenzy at the moment and that concerns me. Not only in relation to Mr Bercow, but in terms of other MPs, there are times when a frenzy is whipped up around individuals and that is quite concerning in terms of their well-being."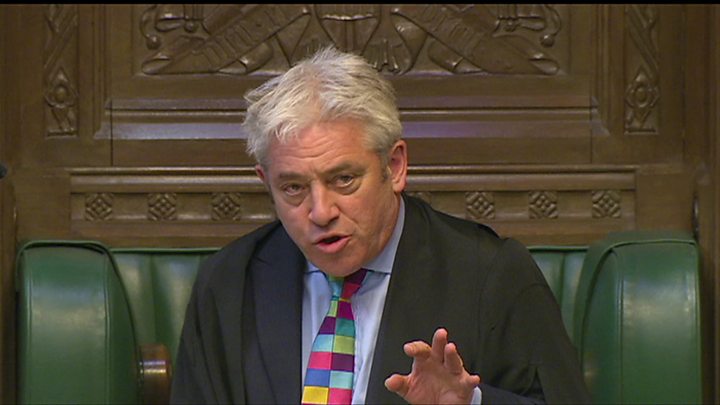 On Wednesday, the prime minister's spokesman said that allegations of bullying against Mr Bercow claims were "concerning" and should be properly investigated.
Mr Bercow's former private secretary Angus Sinclair has claimed that the Speaker shouted and swore at him, and attempted to physically intimidate him.
Mr Sinclair told Newsnight that he faced angry outbursts from Mr Bercow whilst working for him in 2009-10.
A spokesman for Mr Bercow said there was "no substance" to the allegations.
Mr Bercow said in the Commons on Wednesday: "I have a superb team of dedicated, effective and long-serving staff, five of whom have served me for a collective total of over 40 years.
"I am also happy to confirm that the great majority of people who have left my service have done so on perfectly amicable terms."
An inquiry, under Dame Laura Cox QC, is under way into claims of bullying by MPs.
Leader of the House and Tory MP Andrea Leadsom said on Wednesday it was up to Dame Cox to decide if her independent inquiry needed to be expanded to allow for investigations into individuals to take place.