Ben Stokes: England cricketer charged with affray after Bristol nightclub incident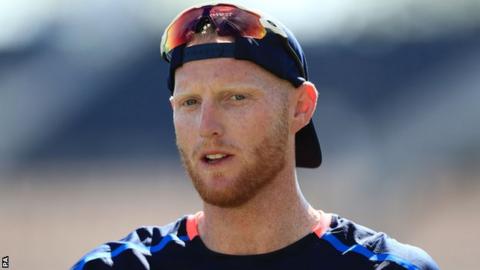 England cricketer Ben Stokes has been charged with affray over an incident outside a Bristol nightclub.
A disturbance in September allegedly left a man with a fractured eye socket and police sent findings to the Crown Prosecution Service (CPS) in November.
Stokes missed the Ashes series, with the England and Wales Cricket Board (ECB) saying he would not be considered for England "until further notice".
The 26-year-old has been charged along with two men from Bristol.
A statement from the CPS said it received further material in late December.
"Following a review of all the available evidence, the CPS has today authorised the police to charge three men with affray in connection with the incident," it said.
"Ben Stokes, 26, Ryan Ali, 28, and Ryan Hale, 26, are all due to appear before Bristol Magistrates' Court on a date to be fixed in relation to this charge."
The ECB says it will convene within 48 hours to decide on Stokes' availability to represent England.
Affray is a triable either-way charge, which means the case can ultimately be heard in either the magistrates' court or the crown court.
It carries a maximum penalty when tried summarily – in the magistrates' court – of a fine or up to six months in prison, and when tried on indictment – in the crown court – of up to three years in prison.
Stokes played six domestic matches in New Zealand in December.
He appeared in three one-day games and three T20s for Canterbury Kings after being cleared to play by the ECB.
The Durham all-rounder returned to the UK to spend Christmas with his family and has been given permission to take part in the Indian Premier League, which starts in April.
Stokes was initially named in England's squad for the Ashes and, despite the ECB's reluctance to pick him while the CPS decided whether to charge him, was also included in the one-day squad for the five-match series against Australia.
He was also named in the England Test squad to tour New Zealand in March, but any potential involvement remained subject to legal or disciplinary developments.
Ben Stokes timeline
25 September – Stokes and team-mate Alex Hales are involved in an incident at about 02:35 BST at Bristol's Mbargo club which left another man needing hospital treatment for facial injuries. Stokes is arrested by Avon and Somerset Police and released under investigation.
27 September – England include Stokes in their 16-man Ashes squad, despite him suffering a minor finger fracture on his right hand. Hales is not included.
27 September – The Sun newspaper releases footage that allegedly shows the incident involving Stokes and Hales.
28 September – The ECB announces Stokes and Hales will not be considered for selection for England matches until further notice.
11 October – Stokes loses his sponsorship deal with sportswear brand New Balance. Stokes apologises to Katie Price and her disabled son Harvey for a video that showed him imitating a TV clip of the youngster.
28 October – England fly out to Australia for the Ashes without Stokes.
23 November – England lose the first Ashes Test against Australia by 10 wickets in Brisbane.
27 November – The ECB issues a statement denying Stokes is joining England's squad after a picture is posted on Twitter which it is said shows him at Heathrow Airport.
29 November – Stokes arrives in New Zealand to play for Canterbury Kings.
29 November – Avon & Somerset Police announce they have completed their investigation and have sent their findings to the Crown Prosecution Service.
4 December – It is announced Hales will not face criminal charges, and the ECB says he is available for selection.
6 December – Stokes is named in England's one-day squad for the five-match series against Australia in the new year.
23 December – Stokes ends his spell with Canterbury and returns to England.
11 January – Stokes is named in England's Test squad for the tour of New Zealand in March and April.