Belhaj rendition: UK apology over Libyan dissident treatment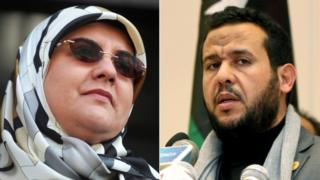 The UK government has apologised to a Libyan dissident and his wife after its actions contributed to their detention, transfer to Libya and his torture by Colonel Gaddafi's forces in 2004.
Prime Minister Theresa May said Abdul Hakim Belhaj and Fatima Boudchar had suffered "appalling treatment".
Ms Boudchar, who was pregnant at the time, has accepted Mrs May's apology and will receive a £500,000 payout.
The couple say an MI6 tip-off helped the US kidnap them in Thailand.
Belhaj case: How was the UK involved and why?
Mr Belhaj was taken to Tripoli and says he was tortured by his Libyan jailers during a six-year spell in prison. Ms Boudchar was also detained but was released shortly before giving birth.
In a letter read out in the Commons, Mrs May said UK actions had contributed to the couple's capture and that the government had "shared information" about them with "international partners".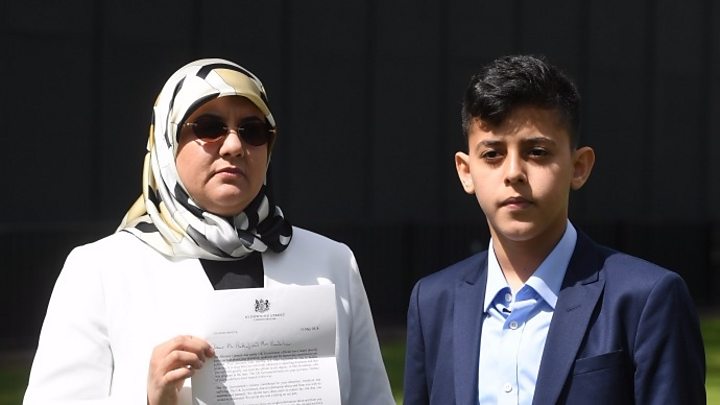 The letter said: "It is clear that you were both subjected to appalling treatment and that you suffered greatly, not least to the dignity of Mrs Boudchar, who was pregnant at the time.
"The UK government believes your accounts. Neither of you should have been treated this way. The UK government's actions contributed to your detention, rendition and suffering. The UK government shared information about you with its international partners."
Mrs May said the UK "should have done more to reduce the risk" of the pair being mistreated, adding: "We accept this was a failing on our part. On behalf of Her Majesty's government, I apologise unreservedly."
Ms Boudchar, who travelled to the UK with her son Abderrahim to hear the statement in Parliament, described the day's events as "historic" and called on world leaders to show solidarity for those who have suffered injustice "even if they're of different religion or culture".
BBC home affairs correspondent Dominic Casciani described it as an "extraordinary turn of events".
He said: "This is an absolutely unprecedented statement from the government.
"I cannot think of a single circumstance, ever, where a British minister has stood up in Parliament and admitted to a specific failing by an intelligence agency which amounted to a really serious wrong which led to legal action."
'Humane' treatment assurances
Attorney General Jeremy Wright, who read out Mrs May's letter, said Mr Belhaj had not sought and would not receive financial compensation.
However, friends of the couple said the UK had agreed to pay Mr Belhaj and Ms Boudchar's "substantial" legal fees.
Jack Straw, foreign secretary at the time of the rendition case, issued a statement in which he said he had "sought to act at all times in a manner which was fully consistent with my legal duties, and with national and international law".
He said it had been part of his role to approve "a wide range of matters to protect our national security" including the sharing of information with international partners.
This included getting assurances that those concerned were being treated humanely, he said.
---
Who is Abdul Hakim Belhaj?
Mr Belhaj was born in 1966 in the Souq al-Jumaa area of Tripoli and studied at al-Fateh University, where press reports say he earned a civil engineering degree.
He became an opponent of Libyan leader Col Muammar Gaddafi and commanded the now defunct Libyan Islamic Fighting Group which staged a low-level insurgency war and attempted to assassinate Col Gaddafi three times.
He fled the country in 2001 but was three years later abducted in Bangkok – along with his wife, then five-months pregnant – while attempting to fly to London to claim asylum in the UK.
Mr Belhaj is now a politician in Libya.
---