Behind the job: Life as a Formula 1 mechanic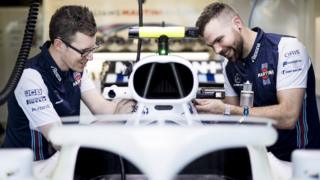 If go-kart racers dream of sitting behind the wheel of an F1 car, then you can bet there are plenty of local garage mechanics who fancy tinkering with the same super-machine.
As the new season starts in Australia, Newsbeat's been given special behind-the-scenes access at Williams Racing.
It's home to two young talents who build the cars, not drive them.
So what's life like on board the multi-billion pound F1 rollercoaster? This is their story.
"I joined Williams in January 2012 from an apprenticeship I served in a local car garage," 26-year-old Jack Hoodless tells Newsbeat.
"I didn't get on too well at school and my dad thought I should get some employment as opposed to sitting around at home."
Fast forward a couple of years and with some hard work he got a foot in the door at Williams.
"I went straight from the garage to working in the wind tunnel, on scale models of the F1 car."
"You go from servicing Mrs Smith's Fiesta in two hours, to being expected to do that work in 20 minutes working on an F1 car.
He's now the number one mechanic, meaning he's in charge of Canadian driver Lance Stroll's car.
That includes overseeing building the car once it arrives at the track, race set-up and making sure the configuration is right.
"The speed and accuracy you have to work at is huge," Jack says.
It's a lot of pressure.
"We're having to work to such precise levels consistently hour after hour, day after day, with everything you do out there on TV for everybody to watch."
"It's not just a Sunday afternoon. We're there from Monday or Tuesday setting up the garage and building the cars. It's never just an eight-hour day."
Williams has been competing in the sport since 1977 and has won nine Constructors' Championships.
Only Ferrari can top that, meaning Jack and his colleague Chris Stafford, 29, are working among the world's elite of mechanical engineering.
Chris works as a number two mechanic. He has a more hands-on role putting together the cars. For him F1 isn't all speed, sunshine and champagne.
"It is a lot of pressure but you can't really think about it too much," Chris says.
"You have to be fully committed to do this kind of job as being away from family is one of the hardest things."
"It's very, very hard work. You spend the best part of 250 days a year away from home."
From pre-season testing in February to the last race at the end of November, the team will have travelled hundreds of thousands of miles across 21 countries.
"You have to just get on with it and talk to home as much as possible, but you have to be passionate about the work to be able to be away as much as we are over the course of a season.
"But I absolutely love my job."
Formula 1 is still one of the world's biggest sporting brands.
Over the course of the British Grand Prix weekend last year, nearly 350,000 people packed in to Silverstone to watch their heroes.
And Jack says being part of the F1 family is a dream.
"The cars have got one of the most technically advanced engines you'll come across.
"The aerodynamics on them are insane, they produce so much downforce, you wouldn't believe it. When you put the two together you get a very fast race car.
"It's such a cool thing to do as a job – being one of the people that put that thing on the track day in, day out.
"It feels amazing. It's something that I dreamt about growing up. To actually work in Formula 1 is incredible and I'm massively proud to say I do."
Follow Newsbeat on Instagram, Facebook and Twitter.
Listen to Newsbeat live at 12:45 and 17:45 every weekday on BBC Radio 1 and 1Xtra – if you miss us you can listen back here.