Bearded men scare people with selfies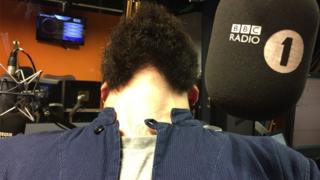 Bearded men have been taking pictures of themselves from below and it's freaking social media out.
Some Twitter users urged the hairy-faced men "to stop looking up" because it was too weird to look at.
It all seemed to start when one person tweeted: "Men with beards looking upwards for your viewing pleasure. Don't say I don't give you anything."
People joined in and some even drew on faces to add to the effect.
Dan tweeted this collection of faces.
It's got tens of the thousands of retweets and comments.
Kieron was one of the first to join in.
Dan was impressed and replied: "Player one, level up."
As Newsbeat's most full-bearded reporter I was roped in and found the process more tricky than expected to capture the facial hair and backdrop.
As is the way with Twitter things move very quickly and people started to encourage the original tweeter to embellish his pictures.
Scott tweeted urging Dan to "draw faces on their necks" and others agreed this was the way forward.
Some people added eyes and emojis and one person went a bit further and drew on his face in pen.
Not everyone was a fan of the trend though and it even made some people question what they find attractive in a future partner.
Skip Twitter post by @adibanaina
I don't want a tall guy with a beard anymore. Imagine ur mans 6'0 looking straight ahead at something, and while u rest ur head on his chest u look up to see his face but instead u see this. I would actually scream. https://t.co/ZdCdvF4sUP

— nai🦋 (@adibanaina) June 3, 2018
End of Twitter post by @adibanaina
Follow Newsbeat on Instagram, Facebook and Twitter.
Listen to Newsbeat live at 12:45 and 17:45 every weekday on BBC Radio 1 and 1Xtra – if you miss us you can listen back here.