Bayeux Tapestry to be loaned to UK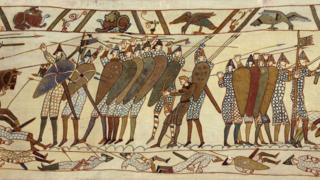 The Bayeux Tapestry is set to be displayed in the UK after France agreed it could leave its shores for the first time in 950 years, the BBC understands.
French President Emmanuel Macron is expected to announce the loan during his visit to the UK on Thursday.
The Times said it could be five years before the tapestry – which depicts the Norman Conquest of England – arrives.
The paper said the loan was subject to the outcome of tests to make sure the 11th Century artwork was safe to move.
The tapestry tells the story of the future William I's conquest of England, culminating in the Battle of Hastings and the defeat of Harold in 1066.
It is on permanent display at a museum in the town of Bayeux, in Normandy, and has very rarely been moved.
However, President Macron is expected to announce the proposed loan at a meeting with Prime Minister Theresa May in the UK this week.
The Times said the agreement was made after "months of talks between culture department officials in London and Paris".
Officials have not yet decided where the tapestry will be displayed in the UK, the paper added.
Five facts about the Bayeux Tapestry
The tapestry is 70m (230ft) long and 50cm high
The earliest written reference to it is an inventory from Bayeux Cathedral in 1476
One story suggests it was almost used as a tarpaulin to cover ammunition during the French Revolution, before a lawyer saved it
Napoleon put it on display in Paris in 1804, while he was planning an invasion of England
It was exhibited in Paris for the second time in 1944, during World War II, before it was returned to Bayeux
Source: The Bayeux Museum
Mr Macron's offer comes after previous attempts to bring the tapestry to Britain failed.
One request is thought to have been made ahead of the Queen's Coronation in 1953, while another was made for the 900th anniversary of the Battle of Hastings, in 1966.
Historians have long debated the origins of the tapestry.
Some say it was created by teams of nuns across England – not France – possibly in Canterbury, Kent.
In 2012, a PhD researcher at the University of Manchester said the artwork's needlework was "consistent throughout", suggesting one group of specialist embroiderers worked on it, in the same place at the same time.