Basketball funding to be discussed at 'emergency summit'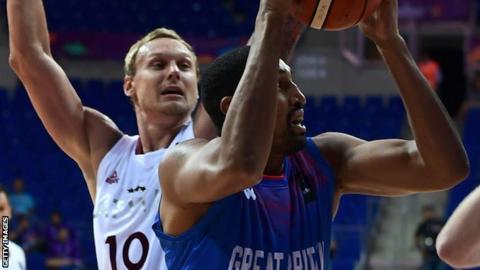 The funding of British basketball will be discussed at an "emergency summit" next week, says Minister for Sport Tracey Crouch.
It follows criticism of the way National Lottery funding is distributed and a warning from the sport itself that national basketball teams are on the point of folding.
Despite being one of the biggest participation sports in the UK for young people, basketball does not receive any UK Sport funding because of its lack of medal-winning potential.
Sport England, the organisation tasked with funding grassroots sport, will give basketball £4.73m over four years from 2017 to 2021.
It also supports the sport's elite-level teams – it spent £1m last year – "because it recognises the importance of having a national team and the inspirational impact that can have on grassroots players".
However, there has been anger from some within basketball who have seen other sports with lower participation figures receive more funding from UK Sport.
While Crouch believes the policy of concentrating lottery money on medals is correct, she says more needs to be done urgently to fund basketball.
"We need to remember that the people we fund are the most likely to win medals and that's something that UK Sport has done incredibly successfully," she said.
"However, basketball is an incredibly important sport and it does a great deal of social good, it inspires people in very urban communities to participate in sport and its important that they do see a pathway into being able to represent the country.
"And with that in mind I am hosting an emergency summit to try to bring all the parties together so that we can have some sort of solution to the issue around funding."
Is basketball losing out?
British Basketball says its young players are making progress but they will not be able to fulfil their potential until the elite programme is funded properly.
It says more than 55% of those in the sport are of black, Asian, and minority ethnic (BAME) backgrounds.
Last month, Great Britain women's international Temi Fagbenle accused those in charge of funding of favouring "obscure sports" over "working class" basketball.
"When I see sports like modern pentathlon and skeleton get millions of pounds, I wonder what sort of world the powers that be are living in and what agenda they are trying to push," she said.
"I feel like they are trying to rip the GB shirts off our backs.
James Vear, head coach of Great Britain men's under-16 team, added: "We're in danger of losing UK national teams.
"It's got to be looked at now. Some sports are being given huge amounts of money and are very low participation sports."
What does UK Sport say?
Bobsleigh was given £5m in funding for the recent Winter Olympics in Pyeongchang, but the four-man teams finished 17th and 18th.
UK Sport chair Katherine Grainger says basketball has a crucial role in Britain's sporting landscape but does not think the funding should come from her organisation.
"Basketball is a great example of the wider impact a sport can have on so many people. It's a great sport to take part in, it's very accessible," she says.
"Absolutely we want to see it with its own investment. With UK Sport it's our remit to fund sports which have the potential of Olympic and Paralympic success and basketball themselves would admit that at the moment they can't prove that success within the next two Olympic cycles.
"So ideally what we need to find for basketball is another source of income, another way to fund them."