Barry Bennell sentencing: Victims speak of ruined lives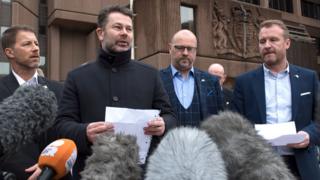 As a boy, Chris Unsworth was raped and abused by Barry Bennell more than 100 times.
On Monday, more than 30 years later, he was among the former youth football coach's victims able to tell Liverpool Crown Court of the devastation the experience has wreaked on their lives.
Ex-Manchester City youth player Mr Unsworth said the horrors of his childhood led him to have a vasectomy years later.
He said he suffered an "overwhelming fear" of being unable to protect any children he had from paedophiles like Bennell.
"I could not risk the same horrendous abuse happening to them," he told the court ahead of Bennell's sentencing.
The ex-coach, now 64, abused young boys on an "industrial scale" between 1979 and 1991 while working at clubs including Manchester City and Crewe Alexandra, his trial heard.
So many people came to watch his sentencing that the courtroom did not have enough seats. A second room was opened to stream the hearing via a video link.
Jason Dunford, who has previously spoken of the abuse he suffered, was one of those in the overflow courtroom.
Also in the room was someone close to another man who says he was abused by Bennell as a child.
The man was yet to report what happened and may never do so, but added. "I had to be here."
'Shattered'
One of those who did come forward and has now seen justice done told the court: "That monster decided it was fun to use me as a sex toy. He took my innocence, my virginity and my football career."
"My dreams were shattered," another said, recounting the anxiety attacks and vivid flashbacks has experienced since.
"It is like it happened yesterday," he added.
The man said he had tried to hide the abuse from his family, likening it to trying to keep a secret behind a locked door.
"It was hell on earth trying to keep it there."
He said he was physically sick when he finally decided to tell his parents in 2016 after police launched an investigation into Bennell's offending.
Unable to get the words out, his wife had to tell them.
"Sorry for not being a good dad," was his father's reply.
The man spoke of using alcohol to numb the pain, while another said he had used drugs as a way of coping.
After two-and-a-half years of being clean, he decided to come forward and report the abuse he suffered to the police.
"I soon relapsed," he added, saying: "The last 12 months have been hell.
"I feel Bennell and Crewe Alexander have stolen my life from me."
Suicidal thoughts
Others told the court about the impact upon their families, their children and their friends.
Most had suffered depression, anxiety and suicidal thoughts.
Gary Cliffe, one of Bennell's victims who was prepared to waive his right to anonymity, also read an impact statement.
"I have been a nervous wreck, depressive… my family have suffered as well," he said.
After addressing the court he walked towards the dock where Bennell was sitting.
"Barry, Barry, why?" he asked, before being ushered back to his seat.
Mr Cliffe did not get an answer.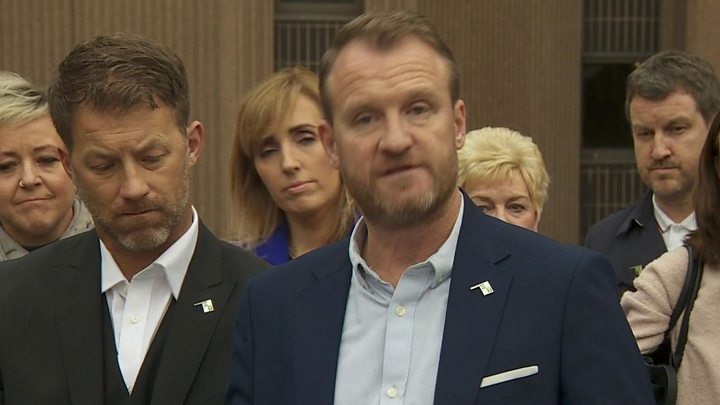 Bennell was attending Liverpool Crown Court for the first time. He appeared via videolink from prison during his five-and-a-half week trial, because of medical problems.
Judge Clement Goldstone QC was told the former coach had lost part of his tongue after two separate operations – in 2004 and 2016 – to remove tumours.
He is now fed through a tube in his stomach, but no longer has cancer.
"Shame" someone whispered in the public gallery.
The now grey-haired Bennell – seated in the dock dressed in a blue jumper and white polo shirt -stared at the floor as, one-by-one, his victims told of the anguish he had put them through.
Sentencing him, Judge Clement Goldstone QC described him as "sheer evil" and "the devil incarnate".
His abuse, he added, had left a "psychological trail of destruction".
After Bennell was jailed for 31 years, there was a muffled round of applause.
Outside court, Micky Fallon, another victim in the case, said the 12 victims Bennell was sentenced for – the 12 "survivors" – had "looked evil in the face and smiled".
"Barry Bennell, we have won," he added.