Barnaby Joyce: The revenge of Johnny Depp's dogs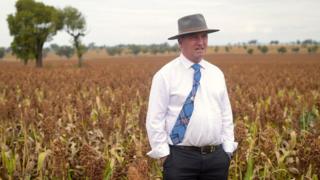 Australian Twitter users have been making fun of Barnaby Joyce, particularly his role in the "War On Terrier," after he announced he will resign as the country's deputy prime minister.
Mr Joyce, one of Australia's many colourful political figures, announced his resignation on Monday amid scandal over his private life, but is being remembered for his role in the life of Boo and Pistol, two Yorkshire Terriers from California.
He gained international notoriety in 2015 after he spoke about the Australian government's quarantining and seeking the removal – or possible extermination – of pet dogs brought to Australia by Hollywood stars Johnny Depp and Amber Heard.
The couple, who are now divorced, were accused of not declaring their dogs to customs officials when they flew into Queensland by private jet.
Mr Joyce had threatened to have the dogs put down, prompting Ms Heard and Mr Depp to release a video of a stilted apology for defying the country's strict biosecurity laws, and in which they called Australia "a wonderful island".
The dogs were eventually sent back to the US.
You might also like this:
Florida shooting: Teachers want to be armed, but not with guns

After Florida shooting, people are giving up their weapons

Pancakes, dogs and jokes: The Tinder PowerPoint profile
Some users are hoping Ms Heard and Mr Depp have something to say about the resignation.
It's not just about dogs.
Twitter users were left baffled by a curious term Mr Joyce – who was briefly evicted from office last year over a dual citizenship eligibility saga – used in his resignation speech.
He said: "This is never about me. It's about the person in the weatherboard and iron, something that manifestly expressed what the National Party is about."
This was misheard as "weatherboard nine". The term was widely used across Australian social media as people tried to figure out what does it meant.
According to the Guardian, Joyce used "weatherboard and iron" as a metonym to describe poor, rural Australian towns in "contrast to the better-built houses of richer cities".