Bank branch closures: How one town has coped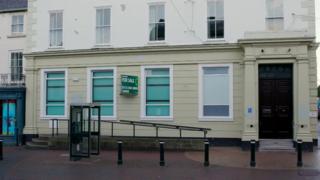 The UK's four big High Street banks closed, or announced plans to shut, a total of 948 branches during 2017.
The banks blamed the advance of technology, with customers turning to the internet and smartphones for day-to-day banking.
However, one town in Flintshire believes that the economic hit caused by branch closures could be reversed – by technology.
A scheme allows small firms in Holywell to accept payments via a smartphone.
'A turnaround'
Three of the four bank branches in the town have closed since December 2016, leaving customers and businesses struggling to access cash.
Now, US technology company Square, in collaboration with the local council, has offered the technology – a reader connected to their phone – to small traders who previously had been put off accepting cards owing to the high cost of renting terminals.
These small businesses pay a fee of 1.75% for card transactions in the shop, or 2.5% when customers use their cards over the phone or online.
Although these fees are not vastly different from existing card processing charges, one big difference is that retailers don't have to pay to lease a reader and are not locked into a complex tariff of minimum charges.
Phil Jones, who runs a computer store in Holywell, told Newsnight that he'd previously accepted card payments but had given up because the costs outweighed any benefit to his business. Like him, more than 90% of traders have signed up to the new scheme.
The town's mayor, Joe Johnson, said: "I can definitely see a turnaround, from the dismay of the original banks shutting to people feeling positive about the town. We need to make a lot of changes, and it is not a silver bullet that's going to solve everything, but it certainly helps."
Across the UK, new challenger banks are operating online and so, partly owing to competition, traditional banks are dropping branches too.
In 2017, RBS, which includes NatWest, closed or announced they would close 471 branches – more than a third of their network.
Lloyds Banking Group, which includes Halifax and Bank of Scotland, shut or announced the closures of 250 branches. Barclays closed 98 branches, and HSBC shut 129, data compiled by BBC Newsnight found.
The total number of branches with the big four banks stood at 5,354 at the start of 2017. Within the next few months that total will have dropped to 4,406, meaning that one in six branches have closed in a little over 12 months.
The banks said many customers preferred to access accounts online. As a result, they used branches less often for day-to-day banking.
The response from Barclays is typical.
"With customers visiting our branches less and less each year, we must constantly assess how and why our branches are used and make decisions based on that insight," a spokesman said.
"Where we do take the difficult decision to close a branch, we work closely with the local community to understand their needs and whether there is an alternative solution we can provide."
The banks still visit Holywell. A NatWest mobile banking van sets up once a week in the council car park. However, the economic effect of the branch closures was felt.
Since the banks shut there has been only one ATM left on Holywell High Street. Unable to easily withdraw cash, many customers preferred to visit bigger out-of-town stores that accepted card payments.
Karen Lloyd, who runs The Flower Bowl florists in the town, said the banks' departure was devastating for small businesses which needed branches to deposit their cash takings.
"You can't just nip to the bank anymore, you've got to physically go to another town," she said.
For most towns the story would end there – with empty buildings and a sense of decline. It may have been the same for Holywell, had it not been for a chance conversation between the local MP and Square executive, Sarah Harvey.
"Square is a relatively new business to the UK and we only launched in March this year we were really keen to get close to a town like Holywell to really understand the problems that small businesses have and see if there was anything we could do to help," said Ms Harvey.
The US company did something similar in Iowa.
The results, according to traders not already locked into a payment terminal lease, have been positive.
While it is true many people can now bank online, internet connections out of town are not so good.
Free card payment readers are not going to solve those challenges but the town council says the project's main benefit is to restore some self-belief in this town.
See David Grossman's full report on Newsnight