Backlash over plan to give out 'modesty ponchos' at prom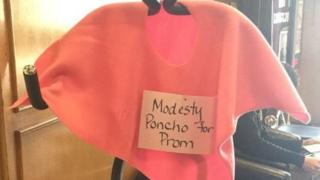 A school in Michigan has been criticised over threats to make students wear a "modesty poncho" if they fail to adhere to a strict dress code for their prom.
People on social media have supported students who posted photos of the ponchos, saying the policy highlighted society's double standards towards men and women.
The dress code for the dance includes requirements such as "no exposed cleavage", "no backless dresses" and "hemlines no shorter than one inch above the knee joint".
Students were told they might be sent home if they flouted the dress rules but the problem came to a head when "modesty ponchos" were put on display around the Divine Child High School in Dearborn.
A note attached to the poncho read: "If your dress does not meet our formal dress requirements – no problem! We've got you covered – literally. This is our modesty poncho which you'll be given at the door."
As a result of complaints a letter has since been sent to parents stressing that the additional garments will not be handed out on the night.
Eric Haley, principal of the Catholic school, wrote: "Our intention with displaying the poncho was never to make students feel uncomfortable but to remind all students of our formal prom dress policy which has not changed for several years."
The teacher behind the "ponchogate" uproar, Mary O'Malley, told Fox 2: "We are trying to focus on the inner beauty of people and not draw attention to something that doesn't need to have attention drawn to it.
"It was really intended as a deterrent and a really light-hearted one at that."
You might also like:
In online debate, there were calls for students to be allowed to just wear what they wanted to the prom.
Skip Twitter post by @becky_l_w
Modesty ponchos are disgusting. Making a girl feel so embarrassed and ugly on their prom night just for showing some shoulder! If a girl is confident and comfortable in the way they dress then that's all that matters, modesty is kind of overrated in our times. #modestyponcho

— Rebecca Ward (@becky_l_w) May 1, 2018
End of Twitter post by @becky_l_w
Cam I said: "Prom is supposed to be an event away from school so why have a dress code besides don't show up naked?"
Others complained about what they felt was inherent sexism in prom dress codes.
Molly Ledford said she thought that dress restrictions were always harsher on girls than boys.
And Alexa added: "Not once in my life have I seen a boy get dress coded. The dress code was created by men who were once the creepy little boys they made it for.
"Heaven forbid people know I have a chest or worse shoulders."
Divine Child High School's prom dress code for male students includes a requirement to be clean-shaven and, unlike female students, they cannot wear earrings.
'My jeans had rips in them'
For some, the "modesty poncho" story has brought back memories of when their choice of dress was questioned at school.
Skip Twitter post by @meganoffortune
I remember being sent to the principals office because my jeans had rips in them. I then had to change into PE shorts. That was more important then attending history class apparently. #modestyponcho

— Chareth Cutestory (@meganoffortune) May 1, 2018
End of Twitter post by @meganoffortune
But there has been humour too.