Bachelet figures 208 dead in protests in Iran and asks Teher "aacute; n for transparency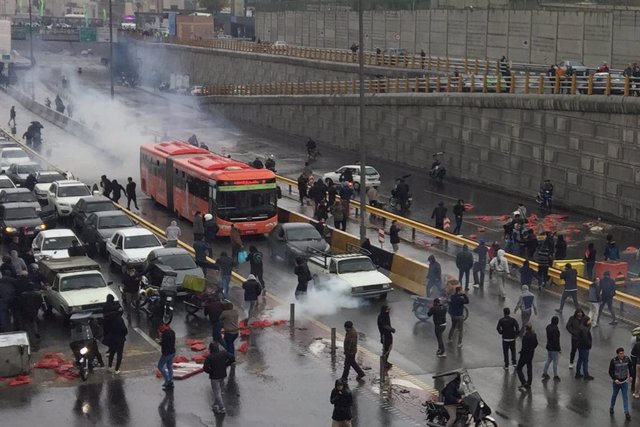 Iran protest against rising fuel prices – VIA REUTERS / WANA NEWS AGENCY
His office has images showing members of the security forces killing unarmed protesters and from behind
MADRID, Dec. 6 (EUROPE PRESS) –
More than 200 people would have died during the repression of anti-government protests in mid-November in Iran, according to the latest information available to the UN High Commissioner for Human Rights, Michelle Bachelet, who has denounced the lack of " transparency "of the Iranian authorities and the overwhelming violence against protesters.
According to the information collected by his office, during the five days of protests that began on November 15, at least 208 people died, including thirteen women and twelve minors, although there are information that they have not been able to verify that they point to the figure would be "more than double."
On the other hand, at least 7,000 people would have been arrested in 28 of the 31 provinces of the country. Bachelet has expressed his "extreme concern for his physical treatment, violations of his right to due process and the possibility that a significant number of them may be charged with crimes involving the death penalty, in addition to the conditions under which they are retained. "
"In such circumstances, with so many deaths recorded, it is essential that the authorities act with much more transparency," said the UN head of Human Rights in a statement. In this regard, he has called for "rapid, independent and impartial investigations of all violations that have occurred, including the death of protesters and the alleged deaths and ill-treatment in custody."
In addition, Bachelet has stressed, "those responsible must be held accountable," given that "there appear to be multiple violations of the International Convention on Political and Civil Rights, which Iran has ratified and is bound to comply."
The Bachelet office has received verified images that show "the use of serious violence against protesters, including armed members of the security forces firing from the roof of a building in one city and from helicopters in another."
They also have images that apparently show "security forces shooting at unarmed protesters in the back when they fled and shooting others directly in the face or vital organs, that is, shooting to kill," Bachelet said, recalling that it constitutes "clear violations of international norms and standards on the use of force and serious violations of Human Rights".
One of the most serious cases was the one that occurred on November 18 in Mahshahr, where the information received would confirm that the security forces used machine guns against the protesters in a square, including people fleeing and hiding in the surroundings, which It resulted in at least 23 dead.
Although "there are conflicting information about whether or not there were armed people among the protesters," Bachelet has made it clear that "this does not justify in any way such an indiscriminate, horrible and deadly reaction by the security forces."
The High Commissioner also has information on ill-treatment against detainees to extract confessions. "Many of the protesters arrested have not had access to a lawyer, which means that due process has not been respected," said the Chilean president.
In addition, he has expressed concern about the alleged intimidation that journalists who are trying to report on the situation both from inside and outside the country would be subject to, after relatives of Iranian journalists working for foreign chains have been allegedly summoned and threatened with reprisals by intelligence officers.
"In short, the image that is emerging from Iran now is extremely disturbing," Bachelet said. "I urge the authorities to immediately release all protesters who were arbitrarily deprived of their liberty and to guarantee their right to due process."
In case there are new protests, the head of Human Rights has claimed, she has urged the Iranian Government to "respect the right of Iranians to exercise freedom of expression, peaceful assembly and association" in addition to restricting "the use of force as much as possible, as contemplated by international standards. "