Baby M death: Aldershot park murder CCTV footage released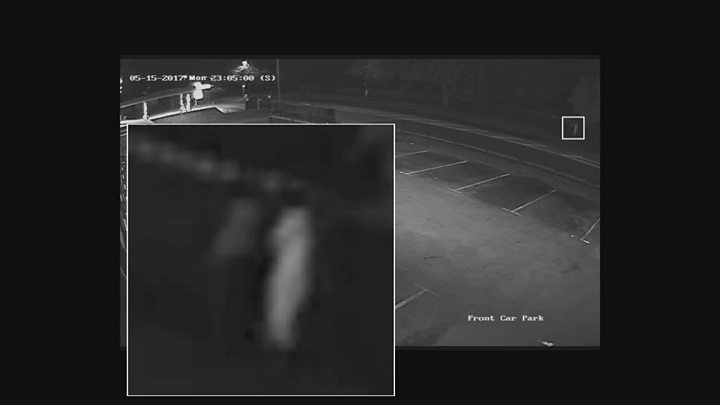 Police investigating the murder of a newborn girl whose body was discovered in a park have released CCTV footage of two people they want to speak to.
Baby M was found dead in Manor Park, Aldershot, on 19 May. It is thought she was born about three days earlier.
The two people in the footage walked up and down nearby Ash Road 10 times in an hour on 15 May, police said.
A post-mortem examination revealed the child died from "deliberately inflicted" head injuries, police said.
She suffered multiple blunt force injuries to the head, with other minor injuries to her body, and died within six hours of being born.
Det Ch Insp Dave Storey, of Hampshire Constabulary, said analysis by the National History Museum found the birth would most likely have happened under a tree in the park between 18:00 BST on 15 May and 08:00 the following day.
He added a DNA profile taken from the baby, whose body was discovered at the edge of the park by a council worker, showed that both she and her mother, and probably the child's father, were of east Asian ethnicity.
'Still not buried'
"This remains a particularly sad case in which, despite extensive investigation, we are still are nowhere nearer to identifying the newborn baby Baby M, nor her mother," he said.
"We have a baby who is unnamed and, at this stage, is still not buried and we would like some assistance in order to identify the mother and obtain some justice for Baby M."
He added the force was still trying to identify the mother and offer support "because it takes an awful lot for a mother to give birth to a child to then either kill the baby or have the baby taken away from her and killed immediately afterwards".