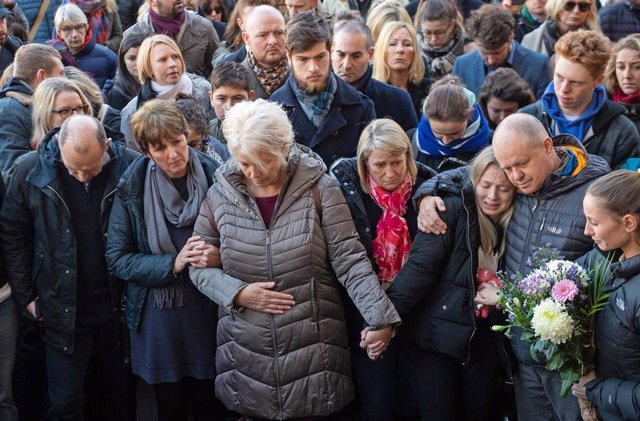 Tribute to the victims of the London Bridge attack – Joe Giddens / PA Wire / dpa
LONDON, Dec. 2 (EUROPE PRESS) –
The British capital has hosted on Monday a symbolic act of homage to the two people who lost their lives on Friday for the attack perpetrated by the London Bridge: Jack Merritt, 25, and Saskia Jones, 23, who died after being stabbed in a talk about prisoner rehabilitation.
Authorities have attributed the attack to Usman Khan, a former convict who left prison in December 2018 and who died on Friday killed by security forces, after being intercepted at first by three citizens.
Prime Minister Boris Johnson and the opposition leader, Labor, Jeremy Corbyn, have joined the tribute organized on Monday, in which the Mayor of London, Sadiq Khan, has appealed to unity and values ​​for " defeat hate "terrorist.
Khan has highlighted the "heroism of anonymous Londoners and emergency services that ran into danger, risking their lives to help people they didn't even know," according to the BBC. The local authorities have opened a book of condolences to collect the condolences of the citizenship.
The attack, unanimously condemned by the entire British political class, has sneaked into the election campaign debate. Johnson announced on Sunday that the situation of 74 people convicted of terrorism and who were released before serving their full sentence would be reviewed.
Corbyn has suggested that the cuts promoted by the Conservative Party in terms of research, mental health and social services could mean "missed opportunities to intervene in the lives of people who continue to commit execrable actions," although he has questioned that full compliance is necessary. of sorrows.
The father of one of the victims, David Merritt, has responded to the controversy urging leaders not to "use" the death of his son, in a tweet in which he has shared the covers of several tabloids. "Jack was opposed to everything you defend: hatred, division ignorance," he criticized, according to Reuters.