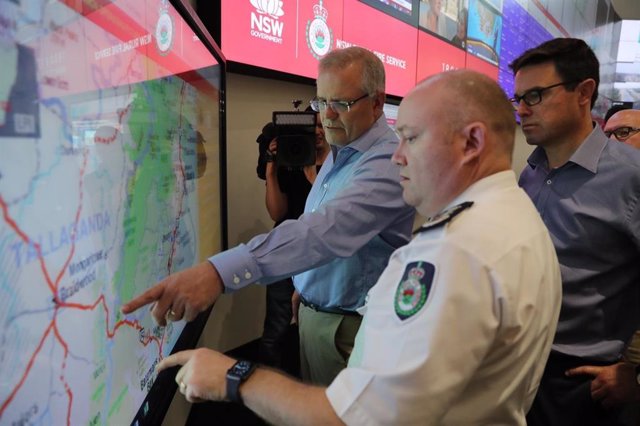 Australian Prime Minister Scott Morrison in a fire control center – GOVERNMENT OF AUSTRALIA
MADRID, 12 Jan. –
Australian Prime Minister Scott Morrison has acknowledged this Sunday that there are things that "could have been managed much better" in relation to the fires that plague much of the country and have killed at least 27 people.
Australian Prime Minister acknowledges mistakes in fire management
Morrison has been criticized for the lack of response to the requests of the affected communities and the absence of a more determined response to the climate crisis.
"They are sensitive, very emotional environments. The prime ministers are also flesh and blood in how they relate to these people," said Morrison in an interview with the Australian ABC network.
Its intention is now to propose to the Government a "royal commission" to investigate the crisis that examines the response of the authorities and the support to those affected.
As for the protests that demand more ambitious action in the fight against climate change, Morrison has assured that the Government "will continue to evolve our policies to meet the objectives" of the Paris Agreement.
"We want to reduce emissions and do our best to be better and better," he said, although he has defended a "balanced policy" that "recognizes Australia's national economic and social interest."
Morrison has been heavily criticized for his family vacation in Hawaii before Christmas, when the country burned, although he eventually shortened them to return to Australia. "I wouldn't have made that trip knowing what I know now," he argued.
The protests took place days after the country's Meteorological Agency pointed out that Australia had its hottest and driest year in 2019, something that would be related to forest fires.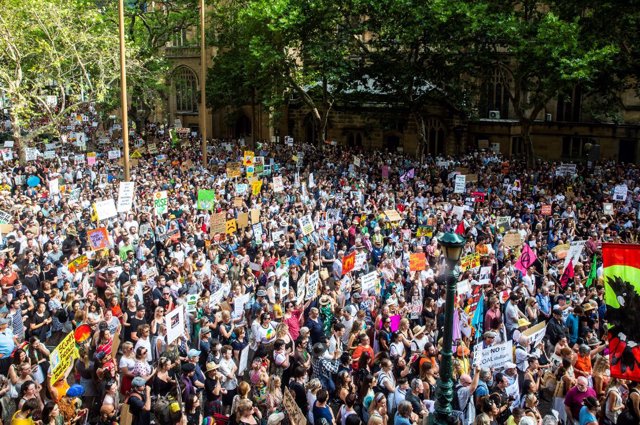 Demonstrations against Australian Prime Minister Scott Morrison due to the fire crisis in the country – GETTY
Australia has gone through "extreme" weather conditions, with forecasts for the weekend that exceeded 40 degrees Celsius and winds of up to 90 kilometers per hour in many rural areas, situations that have made it difficult to extinguish a fire that has already devoured about 10 million hectares throughout the country.
For their part, the authorities of New South Wales have launched thousands of kilos of carrots and sweet potatoes from helicopters in the last hours to feed the thousands of animals whose habitat has been destroyed by the devastating fires, as the person in charge showed of Environment in the region, Matthew Kean.