Australian Grand Prix: What you need to know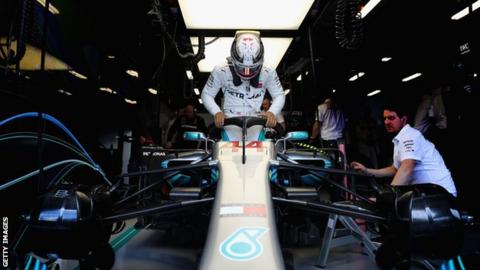 Lewis Hamilton left most of Formula 1's jaws on the floor with his stupendous pole position lap at the Australian Grand Prix – and the question heading into the race on Sunday is whether that was just one of those magic laps he can pull out or a true measure of Mercedes' advantage.
As Mercedes F1 boss Toto Wolff pointed out, until then Mercedes, Ferrari and Red Bull had been extremely closely matched. "We have to find out whether Lewis just got it right and found much more, or whether the reality is closer gaps," Wolff said.
The beginnings of an answer to that question – and perhaps whether the season will be an intensely close fight, or a Hamilton cake walk – will come over two hours in Albert Park on Sunday.
Australian Grand Prix coverage details
Bottas under Pressure
While Hamilton is riding high, team-mate Valtteri Bottas' career is hanging in the balance this year – will Mercedes keep him for 2019 and replace him with either Daniel Ricciardo or Esteban Ocon is one of the hot questions of this season.
The answer, Wolff has made clear, will depend to a large extent on the Finn's form in the first half of the season, so a heavy crash in final qualifying was exactly not what Bottas needed.
He's a phlegmatic soul, Bottas, and he said "anything is still possible", despite starting from 15th on the grid.
"It hurts a bit," he said, referring to physical pain, although he might as well have meant psychological, too. "I don't think humans are meant to take 27G. It's difficult to describe – legs, neck, ribs all take a battering. But nothing in particular."
Wolff, who looked furious and disappointed at the time of the crash, said: "It is a moment where you can start to doubt yourself so we are going to give him all the support we can, show understanding and not on the contrary increase the pressure."
A good race would go some way to getting his personal credit back in the black.
Haas causing a stir
Haas' form so far is one of the surprises of the season, and they delivered with sixth and seventh for Kevin Magnussen and Romain Grosjean – which will become fifth and sixth on the grid after Daniel Ricciardo's penalty. But behind the scenes there has been discontent at some teams over the closeness of their relationship with Ferrari.
Haas have a different approach to most private teams – buying all the parts allowed under the rules from Ferrari and designing in-house only what they have to.
This saves money because it requires less staff. It means Haas design only the bodywork aerodynamic surfaces and monocoque, whereas other private teams tend to buy only engines, or sometimes, as in the case of Force India, gearboxes as well, so they need lots more people to design and test the suspension, hydraulics, electronics, electrics and so on.
McLaren's Fernando Alonso made this discontent public when he called the Haas "a Ferrari replica from last year". Haas team boss Gunther Steiner responded: "When people talk like this, they talk without intelligence and knowledge", adding: "If you have to justify your incompetence, attack is the best defence." Ouch.
Steiner pointed out the car can't be a 2017 Ferrari replica because it has the same wheelbase as the 2018 Ferrari – which is longer than last year's car. And therefore all the aerodynamic appendages have to be different, too. The FIA has given the relationship the all clear.
Alonso keeps his chin up
Meanwhile, Fernando Alonso's 11th place on the grid is not what McLaren were expecting in Australia.
The Spaniard should have been in the top 10, but uncharacteristically made mistakes on both his laps in second qualifying. He admitted 11th was what he deserved but insisted he was "happy with where I am because the performance of the car has been quite good all weekend long.
"Big points are coming tomorrow," he said, claiming McLaren's race pace is better than qualifying pace and that they are lower than they should be on the grid."
All the same, the spotlight is on McLaren, and the promises are only going to sustain them for so long. Sooner or later, the team has to perform somewhere close to where they expect to be – fourth best team at least – or questions are going to be asked of the senior management. Indeed, they are being already.
Hometown blues for Ricciardo
Daniel Ricciardo just cannot catch a break at his home grand prix.
A podium in 2014 was lost to a technical infringement. Last year, his car broke down before it even got to the grid. This year, by Friday afternoon his hopes had already been hit because of a three-place grid penalty for breaking the speed limit under a red flag in practice.
The Australian qualified just 0.014secs behind team-mate Max Verstappen in fifth but will start eighth, with a lot of work to do. Like Mark Webber before him, is Ricciardo fated never to win at home?
Click to see content: Aussie_GP_winners
Halo part of the family already
The introduction of the halo head-protection system is one of the major novelties of this season but, perhaps surprisingly, it has not been a major topic of conversation this weekend.
That may be because of the excitement of finally finding out where the teams stand, or just a reflection of how quickly F1 adapts to change.
When the cars are on track, it quickly becomes a non-issue – personally, I already find myself not really noticing it. But aspects of the TV coverage clearly need some work.
The positioning of the on-board cameras on some cars is far from ideal – the halo blocks most of the view of the track.
This is avoidable because the drivers say they barely notice it when they are in the cars, as was the idea.
It's happened because the camera positions had by regulation to be confirmed by a particular date last year – and at that time the halo had not yet been officially confirmed.
But some senior figures said they saw that as an example of the lack of joined-up thinking that sometimes affects F1.
It may well be that it cannot be changed this season. But some optimisation is needed in the future.
Ferrari v Red Bull on track and off
While the on-track battle has been pretty hot in Melbourne, temperatures have been rising off it as well, with a row between Red Bull and Ferrari over the Italian team's employment of Laurent Mekies, the FIA safety delegate and deputy race director.
Red Bull team boss Christian Horner and his opposite number Maurizio Arrivabene engaged in what might be called a frank exchange of views in public in a news conference on the issue.
Horner said it was "disappointing" that Ferrari had reneged on an agreement made between the teams of a minimum delay of a year between employees transferring between teams and the governing body – and accusing Ferrari of hypocrisy in pushing for that delay to be three years at a meeting just a few weeks ago, when presumably talks with Mekies were already under way.
Arrivabene countered that the FIA had agreed to look into the legal complications of the issue, which seemed to rather miss the point. The two were seen carrying on their argument in the paddock later.
As ever in F1, the politics are never far away.
The track
The place
The hope
The coverage (don't forget, clocks go forward)
Australian Grand Prix coverage details
Date
Session
Time
Radio coverage
Online text commentary
Sunday, 25 March
Race
06:10 BST
BBC Radio 5 live
From 04:30
Monday, 26 March
Review
04:30-05:00 & podcast
BBC Radio 5 live