Australian authorities evacuate hundreds of people for the expansion of fire in the country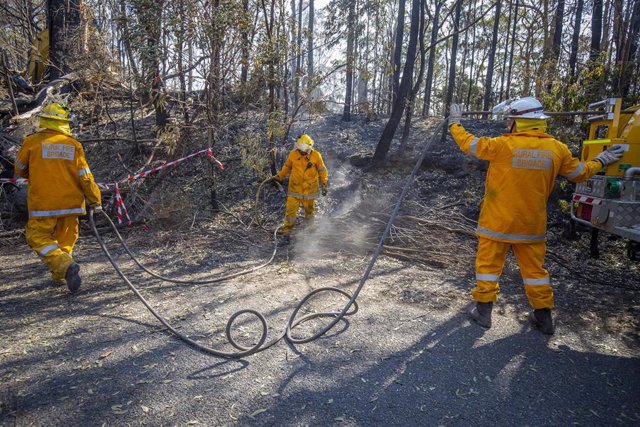 Queensland Brigade firefighters work to extinguish the fire that has reached some houses. – Glenn Hunt / AAP / dpa – Archive
SYDNEY, Nov. 13 (Reuters / EP) –
Australian authorities have evacuated numerous communities this Wednesday morning, including one of Australia's main tourist destinations, while firefighters try to fight the fires that have swept the east coast of the country.
While a cold change during the night has given some relief to firefighters in the state of New South Wales, attention has focused on Queensland (in the north), where weather conditions have become dangerous, with a climate dry and warm, in addition to strong winds.
Authorities have issued the "immediate evacuation" alert, the highest level, in numerous areas, including Noosa, a popular tourist destination on the coast 130 kilometers north of Brisbane, in the Sunshine Coast district of southeastern Queensland.
"The conditions are now very dangerous, but firefighters will soon be available to combat the progress of the fire," the Queensland Emergency and Fire Service said in a statement. "The flames could represent a threat to all the lives that cross their path," says the institution's alert, which has deployed planes to try to contain the fire.
The early start of the fire season has surprised Australians by the ferocity and rapidity of the spread of the flames. So far, authorities have pointed out that at least three people have died and about 100, including 20 firefighters, have been injured. In addition, more than 1.1 million hectares of land have been burned and more than 50 homes have been destroyed.
While dry weather conditions threaten to increase next week, the commissioner of the New South Wales Rural Fire Service, Shane Fitzsimmons, has said that by that time they will not have all the fires contained.
"Unfortunately, what we need is to rain. And there is certainly nothing in the forecast for the foreseeable future that can make a real difference against the conditions we are experiencing," Fitzsimmons said.
When asked about climate change, he has claimed to be "aware of what science suggests." "What we are experiencing is that the fire seasons are starting earlier and are spreading longer," said Fitzsimmons, who added that "there is no doubt that this drought is having a profound effect."
The fires have generated an increasingly bitter debate about Australia's climate change policies, between the ruling Liberal Party and the opponents of the Australian Greens.
Former Prime Minister and current lawyer Barnaby Joyce was one of those who suggested that climate activists were at least partly responsible for the fires by pressing to reduce the so-called 'firefighters', which are carried out in a controlled manner in the opposite direction to the base Natural of the fire being fought.
For his part, the Prime Minister, Scott Morrison, has refused to comment on climate change during the current crisis, and has called for "moderation" this week.