Australia stars banned from all cricket for a year
Cricket Australia made the announcement on Wednesday, adding that batsman Cameron Bancroft had been banned for nine months.
The trio were sent home after cheating was exposed in the third Test in South Africa.
Smith and Bancroft admitted that, after a discussion during a break in play, they decided they would try to change the condition of the ball using a piece of yellow adhesive tape and some dirt collected from the side of the pitch.
Bancroft was tasked to do the on-field tampering but botched it as TV cameras captured the stunt – and his subsequent attempt to hide the tape in his trousers.
All three were charged with breaching the code of conduct and bringing the game into disrepute.
Smith was charged with knowledge of a potential plan to attempt to artificially alter the condition of the ball, while Warner was charged with development of a plan to attempt to artificially alter the condition of the ball.
Bancroft was charged with knowledge of the existence of, and being party to, the plan to attempt to artificially alter the condition of the ball using sandpaper.
The Board of Control for Cricket in India also announced Smith and Warner would be banned from playing in this year's Indian Premier League.
Cricket Australia said Warner "will not be considered for team leadership positions in the future", while Smith and Bancroft will not be considered for such roles until 12 months after their bans end.
Cricket Australia chairman David Peever said: "The CA board understands and shares the anger of fans and the broader Australian community about these events.
"They go to the integrity and reputation of Australian Cricket and Australian sport and the penalties must reflect that.
"These are significant penalties for professional players and the board does not impose them lightly. It is hoped that following a period of suspension, the players will be able to return to playing the game they love and eventually rebuild their careers."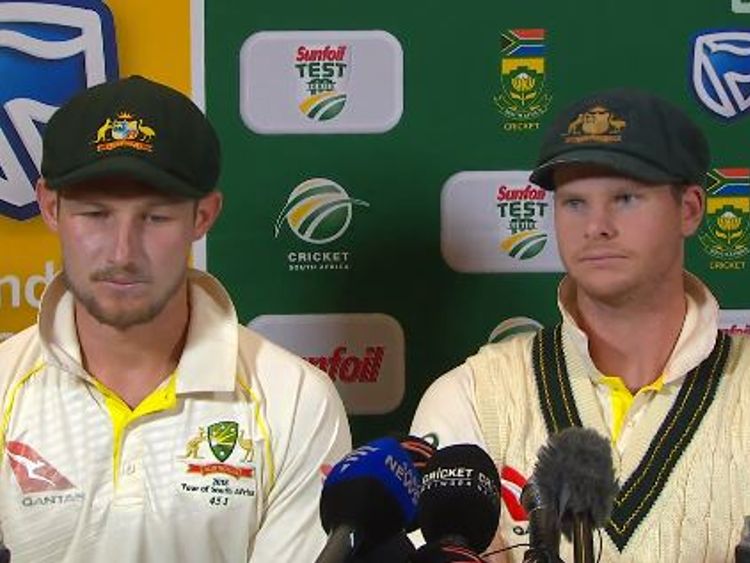 Cricket Australia chief James Sutherland announced on Tuesday that Smith and Bancroft, and vice-captain Warner, would be sent home but the investigation concluded that no one else, including coach Darren Lehmann, was involved.
Matt Renshaw, Glenn Maxwell and Joe Burns have been called up as replacements ahead of the fourth and final Test in Johannesburg.
More from World



Donald Trump: Kim Jong Un looking forward to meeting me




Salisbury nerve agent attack: Kremlin says UK must prove it did not poison spy




Ex-Catalan minister Clara Ponsati arrested in Scotland




Aung San Suu Kyi loyalist wins Myanmar election in boost to democracy




Irish rugby internationals cleared of rape and sexual assault charges




Arnaud Beltrame: Emmanuel Macron leads tributes to 'hero' police officer
A statement from the Board of Control for Cricket in India read: "The Hon'ble Supreme Court of India appointed Committee of Administrators (CoA) on Wednesday took cognisance of the developments in the ball tampering incident involving Cricket Australia contracted cricketers – Mr Steve Smith, Mr David Warner and Mr Cameron Bancroft.
"The CoA, in consultation with BCCI Acting President Mr CK Khanna, IPL Chairman Mr Rajeev Shukla and BCCI Acting Hon. Secretary Mr Amitabh Choudhary, has decided to ban Mr Smith and Mr Warner with immediate effect from participation in IPL 2018."