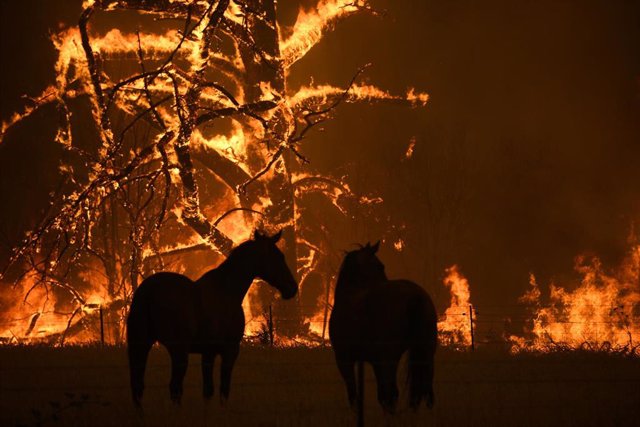 A forest fire in the state of New South Wales at the end of December 2019 – Dan Himbrechts / AAP / dpa
CANBERRA, 10 Jan. (DPA / EP) –
The Australian Government has alerted residents of large areas of northwestern Victoria on Friday, declared in a "state of disaster" for the first time in its history, that they will leave their homes or will be at risk of being caught in the fires. Forests that plague this area since Christmas.
Australia alerts Victoria residents to leave their homes or be caught by fires
Australia is preparing for the nth day of fires under "extreme" weather conditions, with forecasts for the weekend that will exceed 40 degrees Celsius and winds of up to 90 kilometers per hour in many rural areas, situations that have made it difficult to extinguish a fire that has already devoured about 10 million hectares throughout the country.
The Prime Minister of Australia, Scott Morrison, has warned this Friday that it will be "a difficult day for the eastern states" and that the end of this crisis is still "far away."
Morrison, much criticized for his work during the fires, has explained that the ships will remain off the coast of New South Wales, prepared in case they have to evacuate the inhabitants of the different populations of the state.
The conservative prime minister has also confirmed that both the Navy and the Army will continue to collaborate in the attempt to extinguish the 134 fires that are still active in New South Wales, 53 of them not containing.
Meanwhile, in South Australia, more than 200 firefighters are still struggling to contain a wildfire that has already burned more than a third of Kangaroo Island.
The fires have already caused at least 24 fatalities and four more firefighters have been injured in the more than 200 fires in the Australian states of New South Wales and Victoria, which have already razed three million hectares in the last month.
In addition, at least six people remain missing in Victoria, where there are at least 50 fires in progress. In New South Wales, authorities are trying to clear an area of ​​14,000 kilometers, with five "prohibited areas."