Attacks are out of proportion, says Oxfam's Mark Goldring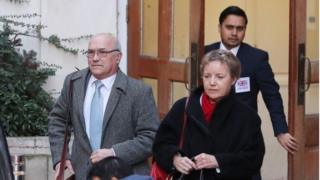 Oxfam's chief executive, Mark Goldring, has said the scale and intensity of the criticism against his organisation in the wake of claims its workers used prostitutes in Haiti is out of proportion to its level of culpability.
He told the Guardian newspaper: "The intensity and the ferocity of the attack makes you wonder, what did we do?
"We murdered babies in their cots?"
Mr Goldring also suggested that critics are motivated by an anti-aid agenda.
The charity boss said that "anything we say is being manipulated… even apologies only make matters worse."
He acknowledged Oxfam could have acted faster but said "what I felt really clearly is many people haven't wanted to listen to explanations".
Earlier this month, news reports said that during a humanitarian mission in Haiti in 2011, the charity's country director hired prostitutes at a villa paid for by Oxfam.
The charity faced more criticism when it emerged that it had not shared details of the allegations with the Haitian government.
Oxfam apologises in a full page advertisement in today's Guardian in which it says sorry to the people of Haiti and the charity's supporters.
The ad, paid for by supporters rather than the charity, also sets out the actions the organisation plans to take, including tripling Oxfam's safeguarding capacity and establishing a review into improving its culture.
Another charity – Médecins Sans Frontières (MSF) – has now come under question as the president of Haiti called for an investigation into the activities of aid agencies working in his country.
Jovenel Moise, asked why the medical charity MSF had repatriated 17 of its staff members.
He told the Reuters news agency: "The Oxfam case is the visible part of the iceberg,
"It is not only Oxfam, there are other NGOs (non-governmental organizations) in the same situation, but they hide the information internally."
MSF said it took reports of staff misconduct seriously and was seeking to clarify questions raised by the president.
'A long way to go'
Oxfam has agreed to stop bidding for UK government funding until it can show it meets the "high standards" required, ministers say.
International Development Secretary Penny Mordaunt said the charity had "a long way to go" before regaining the trust of the public, its staff and the people it aims to help.
The charity, which had a total income of £409m last year, received £31.7m from the government in 2016, accounting for about 8% of the charity's income.
The amount also represents about a quarter of a percent of the government's annual foreign aid spending.
Oxfam is setting up a commission to investigate past and present allegations of exploitation by staff.
Other planned reforms include new funding for safeguarding measures and a crackdown on references issued to former staff.
Do you have any information related to this story that you wish to share? Please email haveyoursay@bbc.co.uk.
Please include a contact number if you are willing to speak to a BBC journalist. You can also contact us in the following ways:
WhatsApp: +447555 173285
Tweet: @BBC_HaveYourSay
Send an SMS or MMS to 61124 or +44 7624 800 100