At least four dead in Florida university bridge collapse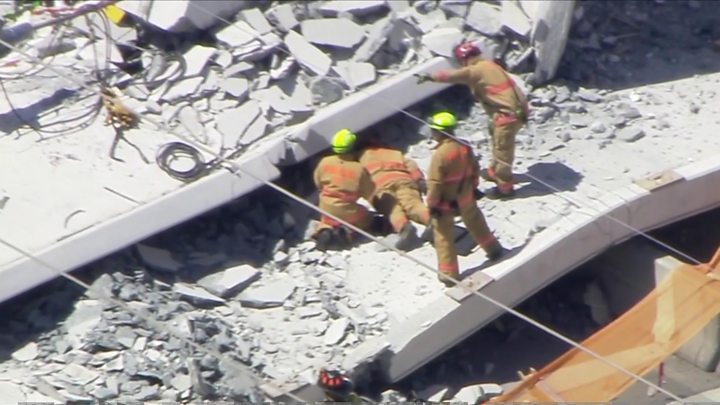 A newly installed pedestrian bridge has collapsed at Florida International University and police say there are several fatalities.
Images of the buckled structure at the college in Miami were shared across social media on Thursday afternoon.
The 950-ton span only went up on Saturday, CBS Miami reports.
Local media report that an unknown number of people were trapped underneath the bridge, which was built over a motorway.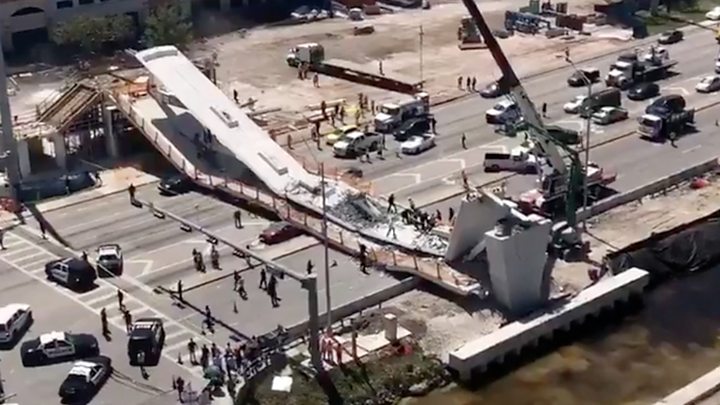 Florida Highway Patrol Lt Alejandro Camacho told CBS News there were several fatalities and five to six vehicles crushed.
Aerial footage shows first responders trying to get under the bridge to trapped cars.
The university issued a statement saying rescue efforts were still underway.
"We are shocked and saddened about the tragic events unfolding at the FIU-Sweetwater pedestrian bridge," said a university spokesperson.
"At this time we are still involved in rescue efforts and gathering information."
Miami-Dade County Emergency Management urged commuters to avoid the area.
A witness told ABC News that the screams coming from the cars were "terrifying".
"As soon as I looked outside, I saw dust flying everywhere," Tiona Page said. "I knew the bridge had collapsed."
Another witness, Damany Reed, told CBS News: "I heard a big kaboom…it sounded continuous. We look outside…we thought something had fallen but it was the bridge that collapsed. It was just surreal at that moment and pretty scary".
Florida Governor Rick Scott responded to the accident on Twitter: "I have spoken with Miami-Dade County Police Chief Juan Perez about the pedestrian bridge collapse at FIU.
"I will be in constant communication with law enforcement throughout the day."
White House spokeswoman Sarah Sanders said President Donald Trump was aware of the incident and would send any assistance needed to help local law enforcement officials.
The bridge, which connected the college to a student housing area, had long been requested by students and staff at the university so they could avoid the traffic below, according to the Miami Herald.
In August 2017, a student was hit and killed by cars while crossing the busy road.
Munilla Construction company (MCM), a family-owned contractor that helped build the bridge, tweeted "thoughts and prayers" for those affected by the tragedy.
"We will conduct a full investigation to determine exactly what went wrong and will cooperate with investigators on scene in every way," the firm tweeted.
The university had touted the new swinging span on Twitter just days ago.
The 174ft (53m) cable-supported footbridge was to be publicly opened in 2019, local media say.
Costing $14.2m (£12.5m), it was funded by the US Department of Transportation.
NBA basketball team Miami Heat tweeted their support to the FIU community.
---
Are you in the area? Did you witness what happened? If it's safe to do so, you can share your experience by emailing haveyoursay@bbc.co.uk.
Please include a contact number if you are willing to speak to a BBC journalist. You can also contact us in the following ways: