At least eight injured on another night of clashes in La Paz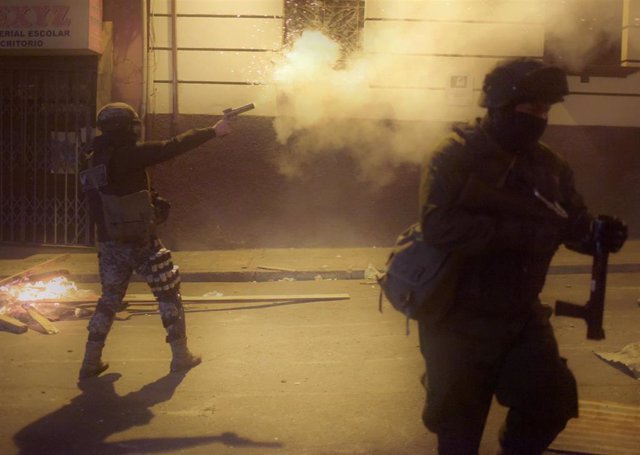 Police use tear gas during clashes between opponents and related to the Morales Government in La Paz – REUTERS / STRINGER.
MADRID, Nov. 8 (EUROPE PRESS) –
At least eight people have been injured this Thursday on another night of clashes between opponents and related to the Government in the town of La Paz, in the framework of protests against the re-election of President Evo Morales.
Medical sources have confirmed that there have been at least eight injured, including protesters and police officers, according to the newspaper 'Página Siete'.
A group of people, most of them university students – with helmets, shields and sticks – have tried to reach Murillo Square in La Paz, where clashes have been registered with the Police, which has responded using tear gas.
For its part, the newspaper 'El Debe' ​​has indicated that the streets adjacent to Murillo square have become battlegrounds between police and protesters. This is the fourth consecutive day of clashes near the headquarters of the Government.
The protests in Bolivia broke out the same night of the presidential elections held on October 20 due to the sudden suspension of the transmission of official results just when they forced a second round between Morales and Mesa.
When he resumed, almost 24 hours later, they granted Morales the first round victory, so Mesa has denounced a "gigantic fraud." Both called for the mobilization of their own, which has resulted in riots. At least three people have died and more than 190 have been arrested in these two weeks.
In this context, Morales has agreed that the OAS, supported by countries such as Spain, Mexico or Peru, conduct a binding electoral audit. Mesa, on the other hand, does not accept it because it says it is the result of a unilateral agreement between the Government and the hemispheric bloc without regard to the opposition.