At least 63 dead in the last two days of protests in Iraq, according to an NGO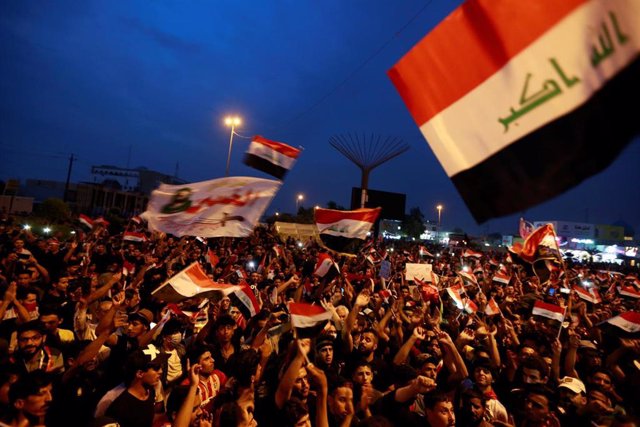 Demonstration in Najaf – REUTERS / ALAA AL-MARJANI
At least eight people have died from the impact of tear gas canisters launched against protesters
MADRID, Oct. 26 (EUROPE PRESS) –
The NGO Iraqi High Commission for Human Rights has reported that at least 63 people have died in the last two days of protests against the Government.
"The number of deceased has reached 63," the organization said in a public statement in which it states that 2,595 injured have also been recorded between protesters and members of the security forces. To this figure we should add the 42 dead on Friday.
Sources of the organization have explained to the German news agency DPA that six protesters died in the capital, Baghdad, and in the city of Nasiriya alone on Saturday.
This Saturday hundreds of protesters have tried to overcome the security controls installed by the security forces next to the Yumariya Bridge, in central Baghdad.
"Protesters have tried to reach the Green Zone, but were rejected by security forces with tear gas," said an eyewitness. The Green Zone houses the headquarters of the Iraqi Government and the main foreign embassies.
These violent incidents involve the return to the disturbances after a morning this Sunday in which a relative normality with pedestrians and cars has returned to the streets of the capital.
In addition, protesters have built a camp in the central Tahrir Square, the epicenter of the protests, while the authorities maintain curfews in seven provinces in southern Iraq.
Meanwhile, the NGO Human Rights Watch has denounced the death of at least eight people on Friday due to the impact of tear gas canisters launched by security forces against the crowd.
"Although there are violent attacks by protesters, security forces must strictly limit their response to what is proportional and necessary to maintain order," said HRW director for the Middle East, Sarah Leah Whitson. "What we have seen time and again is that Iraqi security forces resort to unnecessary force, even against nonviolent protesters," he warned.
"It is unacceptable that security forces fire tear gas canisters at crowds and not at them. No one should die from a tear gas canister," Whitson concluded.