At least 200 detainees and 188 petrol bombs seized on the protest day in Hong Kong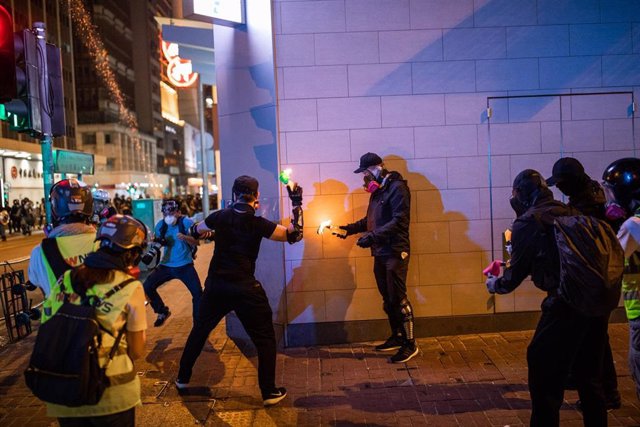 Clashes between police and protesters in Hong Kong in one of the most violent protests since the demonstrations began five months ago. – Todd Darling
HONG KONG, Nov. 3 (Xinhua / EP) –
The Hong Kong Police have arrested 200 people and seized 188 petrol bombs this Saturday during anti-government protests that have been going on in the country for five months.
People have been arrested for crimes of illegal gathering, possession of offensive weapons, criminal damage and use of facial coverage during an "illegal" meeting, the Hong Kong Police said in a statement. In addition to the 188 gasoline pumps seized, the Police have also confiscated extendable sticks and pepper sprays.
This Saturday has been one of the most violent protest days since the demonstrations in Hong Kong began. Ultimately, they are directed against the Beijing Government, which they accuse of violating their principles of autonomy.
Protesters have destroyed and burned stores and damaged public transport facilities in the city. In addition, some have also attacked passersby and have placed nails on the roads.
Meanwhile, the Hong Kong Police has once again resorted to tear gas to clear the new protest called for this Saturday in the streets of the territory.
"The continued vandalism is seriously affecting public order and people's daily life," the Hong Kong Police criticized, while reiterating that "no violent behavior will be tolerated."
"The Police will continue taking decisive enforcement measures to safeguard the city's public safety and bring all offenders to justice," he stressed.
The march, held after an "emergency call" made by pro-democratic activists, has led to clashes with security forces in Victoria Park and Causeway Bay, two of the usual friction points of the protests. At the moment there is no evidence of injuries.
These new clashes take place after the Chinese government announced on Thursday its intention to "perfect" the way in which the leader of Hong Kong is named and relieved, after a four-day closed-door meeting between the main leaders of the Communist Party in Beijing.