At least 19 Palestinians killed by Israeli air strikes in Gaza since Tuesday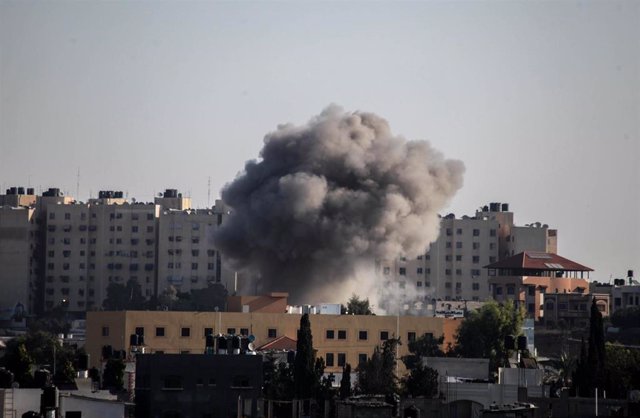 Smoke column after an Israeli air strike in Gaza on November 12 – Ramez Habboub
JERUSALEM / GAZA, Nov. 13 (Reuters / EP) –
At least nine Palestinians have died on Wednesday as a result of air strikes by the Israeli Defense Forces in the Gaza Strip, which brings the balance of Israeli military operations in the coastal territory to 19 dead Palestinians since the selective attack that ended the Tuesday with the life of a commander of the Palestinian terrorist group Islamic Jihad, according to Palestinian medical sources.
Since early Wednesday morning, Palestinian militiamen have been launching rockets at Israeli territory from Gaza and the Israeli Armed Forces have carried out airstrikes in the Palestinian coastal territory.
On Wednesday, the bodies of six Palestinians killed by Israeli air strikes have been transported by taxi and ambulance to Shifa hospital in Gaza City.
Several doctors and witnesses of the events have ensured that the deceased are civilians residing in densely populated neighborhoods. Among the fatalities are a father and his son. "They started this. We didn't want war," said a relative of one of the Palestinian victims.
The Israeli Defense Forces have reported that on Wednesday they have resumed attacks against Islamic Jihad targets in the Gaza Strip. An Israeli military spokesman has said that the airstrikes have killed those responsible for three rocket launchers.
Islamic Jihad has confirmed that two of its militiamen have been killed by Israeli air strikes south of Gaza City on Wednesday morning. Medical officials have subsequently said that another man was killed by an air raid while riding a motorcycle.
The biggest clashes in recent months began on Tuesday after the Israeli Defense Forces killed in a selective attack on Abu al Atta, a senior Islamic Jihad commander whom the Israeli authorities accuse of driving and planning attacks against Israeli targets.
ISLAMIC YIHAD DISCHARGES SUSPEND YOUR ATTACKS
In response to the operation that killed Al Atta and his wife, Islamic Jihad launched about 200 rockets on Israeli territory on Tuesday and resumed attacks on Wednesday. Despite attempts by diplomats to regain calm, an Islamic Jihad official has told Reuters that his group has already told mediators that it will carry out attacks in response to the Israeli selective attack.
"The attempts to recover peace have not prospered. Islamic Jihad believes that it is time to respond to the murder policy that has been reactivated by a Zionist enemy," said the head of the Palestinian terrorist group. "The enemy will pay the price for his stupidity and we are determined to respond to this aggression with all our power," he said.
Hamas, the Islamist group that controls the Gaza Strip, has not participated in clashes with Israel.
The rockets launched from Gaza have led Israeli citizens to protect themselves in shelters in locations closest to the Gaza border and in other areas of the country. Aerial sirens have sounded and some projectiles have reached roads and several locations, with no fatalities recorded in Israel.
NETANYAHU SAYS HE DOESN'T WANT THE CLIMBING
Israeli Prime Minister Benjamin Netanyahu has said that Israel, having killed the Islamic Jihad leader, is not interested in unleashing an escalation of violence.
"We do not want an escalation of violence but we are responding to each attack against us with a very intense attack in response. It is better for Islamic Jihad to understand now instead of when it is too late," said the Israeli prime minister, at the beginning of A government meeting.
In the Gaza Strip, schools and government buildings have remained closed for the second consecutive day, as have schools in most of southern Israel.
Israel took over the Gaza Strip in the 1967 war and in 2005 withdrew troops and settlements. Since 2007, the territory has been controlled by the Hamas Islamist group and has been subjected to a blockade imposed by the Israeli authorities and seconded by Egypt.