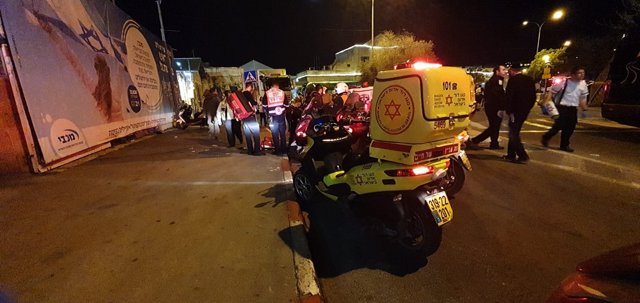 Members of the Red Star rescue service (Magen David Adom) at the place where there was an outrage that has injured 14 people, one of them critical. – TWITTER MAGEN DAVID ADOM (DAVID ROJA STAR)
The incident is being investigated as an attack
MADRID, Feb. 6 (EUROPE PRESS)
At least 15 wounded soldiers, one in critical condition, after an outrage in Jerusalem
At least 15 soldiers have been injured, one of them in critical condition, after a vehicle, whose driver has fled, hit a crowd near First Station, an entertainment center with shops and restaurants located in Jerusalem .
The Red Star David rescue service –Magen David Adom– and the medical services of the Israel Defense Forces have treated the victims at the scene of the incident and, subsequently, have been transferred to health centers, some of them in ambulances of the Israeli Army.
Specifically, Estrella de David Roja has reported through his Twitter account that twelve people have been slightly injured, one moderate and one seriously injured. The moderate condition has suffered injuries to his limbs and has been evacuated to the Ein Kerem hospital, while the one in serious condition to Shaare Zedek's.
"I have treated a young man who was in serious condition after suffering a complete trauma. I also treated two other young people who suffered moderate injuries," said United Hatzalah medical service volunteer Aharon Pomp, one of the first to reach the place, as reported by the local newspaper 'The Jerusalem Post'.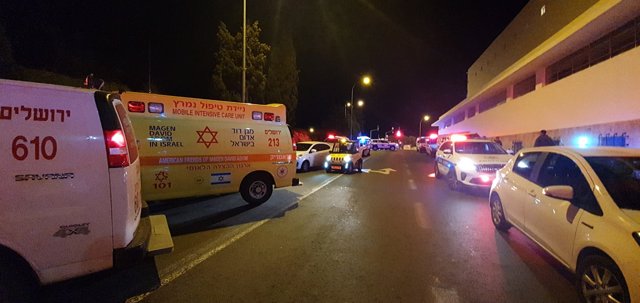 Members of the Red Star David rescue service (Magen David Adom) at the place where there has been an outrage that has injured 14 people, one of them critical – @Mdais
According to the same newspaper, Israeli security forces, who were tracking the area in search of the perpetrator, have found the suspect vehicle on a road in Beit Jala, near Bethlehem.
According to an Israeli police spokesman cited by the media, the incident is investigated as an attack. It is believed that the perpetrator saw the group of soldiers and turned to them deliberately.