'Assassination list' A&E doctor jailed for 12 years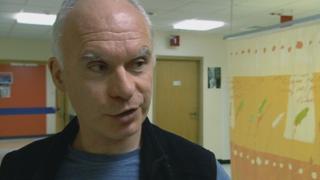 A former A&E consultant has been jailed for 12 years for possessing firearms with intent to endanger life.
Dr Martin Watt, who worked at Monklands Hospital in Airdrie from 1994, was sacked in 2012 following disciplinary proceedings.
The 62-year-old was later found with three sub-machine guns, two pistols, ammunition and an "assassination list" of those he blamed for his dismissal.
He was found guilty last month after a trial at the High Court in Glasgow.
The court had heard how he compiled a list of "bad guys", and hatched a plan to "assassinate" them.
Watt used the weapons for target practice to make himself a better marksman.
He also researched the best routes to the addresses of some of the people on his list, and compiled a list of some of their car registration numbers.
His home in Lanarkshire was raided by police last year after a tip-off.
'Practised shooting'
Jailing him, judge Lady Stacey told Watt: "These are lethal weapons. Not only did you have the guns, you had live ammunition. The weapons were all in working order because you reactivated them.
"You had them with intent to endanger life and any court must take a very serious view of this. You represent a danger to members of the public.
"You had researched routes to some addresses, you told the jury you practised shooting to make yourself a better marksman."
The judge added: "It is sad to see a man who has held position you have, in this situation, but I must protect the public."
She ordered Watt to be on licence for three years after his release from prison. A Serious Crime Prevention Order was also granted restricting his internet use, travel and NHS visits for five years after his release from custody.
Watt, who continues to insist he did not plan to harm anyone with the weapons, smiled as sentence was passed and nodded while the judge was speaking.
He had claimed he had merely compiled the "hit list" as a way of making himself feel better, and had no intention of carrying out any attacks.
Defence QC John Scott said: "This is clearly a most unusual case and Dr Watt is an unusual person to be sitting in the dock at the High Court.
"He is a medical man who with over 30 years of significant public service in the NHS.
"He had a prominent role in the campaign to keep Monklands Hospital, He is an intelligent man who has made a positive contribution to society."
Dum-dum bullets
Police found three Skorpion sub-machine guns, two Valtro pistols and bullets including 57 dum-dum bullets when they searched his home in Condorrat in May of last year.
The court heard that Watt bought decommissioned weapons legally from the Czech Republic and put them back into working order in his workshop.
They also uncovered the "bad guys" list, along with information on individual addresses and car registrations.
The "template" for the attacks was based on a film about a group of mercenaries.
Watt also carried out target practice with a Skorpion sub-machine gun at a forest area close to a motorway near his home.