Assad planning to meet Kim Jong Un, North Korea says
A KCNA report quoted Mr Assad as saying: "I am going to visit the DPRK (Democratic People's Republic of Korea) and meet Kim Jong Un."
It said Mr Assad made the comments on Wednesday while receiving diplomatic credential documents from North Korean ambassador Mun Jong Nam.
There was no indication such a trip had been planned and Syria has not confirmed the comments.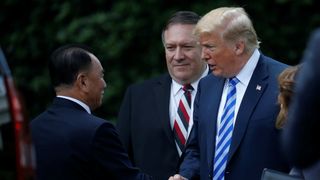 The report also quoted Mr Assad saying he was sure Mr Kim would "achieve the final victory and realise the reunification of Korea".
According to KCNA, Mr Assad said: "The world welcomes the remarkable events in the Korean Peninsula brought about recently by the outstanding political calibre and wise leadership of Kim Jong Un.
If the meeting went ahead it would be the first between Mr Kim and another head of state in Pyongyang.
Pyongyang and Damascus maintain good relations, and United Nations monitors have accused North Korea of co-operating with Syria on chemical weapons, which the North vehemently denies.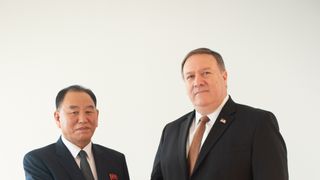 Both countries have faced international isolation – North Korea over its nuclear weapons programme and Syria over its civil war.
Since the start of the year, Mr Kim has launched a round of diplomatic meetings with leaders in China and South Korea, and is due to hold a summit with Donald Trump on 12 June in Singapore.
More from Bashar al Assad



Bashar al Assad goes old school in response to Trump's 'animal' insult




Syria military operation 'wrapping up', Putin tells Assad during Russia talks




Boris Johnson condemns Russia over Syria chemical attack 'cover up'




Bashar al Assad's son: People are 'blind' to what my father is really like




Assad regime 'preparing chemical weapons attack', White House says




Syria using crematorium to cover up mass hangings, US claims
The North established diplomatic relations with Syria in 1966, opening its embassy in Damascus. Syria opened its mission in Pyongyang in 1969.
The two countries began military co-operation when North Korea sent around 530 troops including pilots, tank drivers and missile personnel to Syria during the Arab-Israeli war in October 1973.